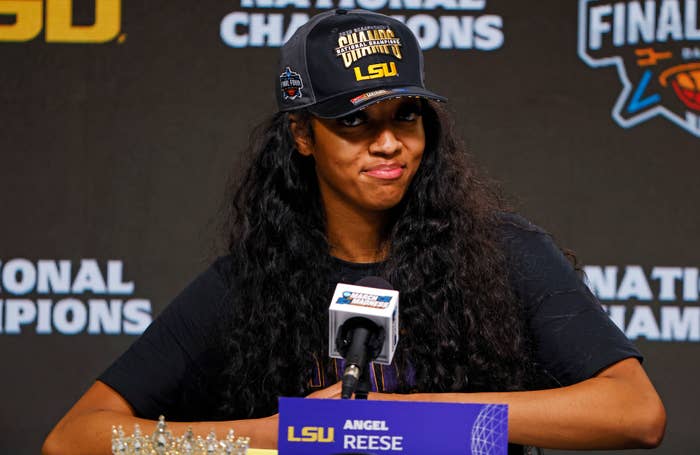 UPDATED 4/7, 12:10 p.m. ET: Angel Reese confirmed on SportsCenter that she will in fact visit the White House with her team for a victory lap.
Asked about First Lady Jill Biden floating the idea of LSU and runner-up Iowa both attending, the 20-year-old replied at the 4:25 mark in the clip below, "At the beginning, we were hurt—it was emotional for us, because we know how hard we worked all year for everything. … But just going back on it, I mean, you don't get that experience, ever. So being able to go [to the White House], I know my team probably wants to go for sure, and my coach is supportive of that, so I'm gonna do what's best for the team."
Reese continued, "And if they would like to go, we decide that we're gonna go, then we're gonna go. It was tough just seeing that in the beginning, but I think we'll all come together and I think it'll be good. … I'm a team player. I'm gonna do what's best for the team, and I'm the captain. I know the team will love it."
See original story below.
First Lady Jill Biden shared Monday that she plans on making the unusual request of not only welcoming the NCAA women's national champion LSU Tigers to the White House, but also extending an invite to Iowa, the school defeated in the title game.
"I know we'll have the champions come to the White House, we always do. So, we hope LSU will come," Jill Biden said, according to ESPN. "But, you know, I'm going to tell Joe I think Iowa should come, too, because they played such a good game."
The White House would not comment on whether Joe Biden has decided to extend an invite to Iowa.
Angel Reese, who has been subjected to unnecessary criticism for taunting Iowa's Caitlin Clark during the Women's National Championship game Sunday, responded to Jill's notion to invite both teams on Twitter, calling it "a joke" in all caps with some crying-laughing emojis.
Stephen A. Smith quickly backed her up, writing, "I mean absolutely zero disrespect to the First Lady, but you are 1000% correct. That is a bad suggestion. Runner-ups don't get invited to the White House. Why are we trying to change it now? I completely agree with you, Angel."
Reese offered the commentator her thanks.
She also co-signed teammate Alexis Morris, who asked, "Michelle OBAMA can we (LSU NATIONAL CHAMPS) come celebrate our win at your house?"
Reese's response to Biden's idea comes after Angel seemed entertained to have made some politicians "big mad," and thanked former president Barack Obama for his support.
The practice of sports teams visiting the White House dates back to 1865 when the Brooklyn Atlantics and Washington Nationals amateur baseball clubs were welcomed by then-president Andrew Johnson, as reported by ESPN. Championship teams receiving an invite didn't become a tradition until Ronald Reagan.
Extending an invite to the runner-up, however, has never been a thing.