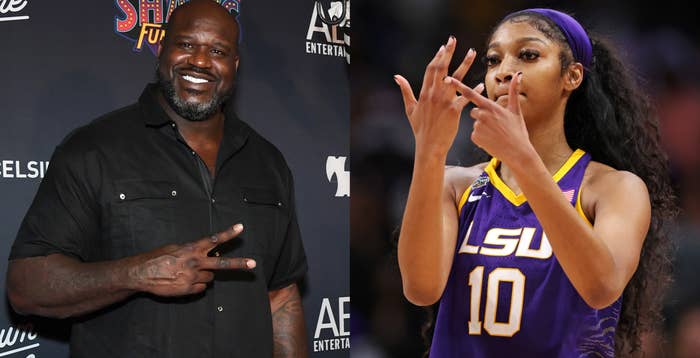 Shaquille O'Neal has come to the defense of fellow LSU forward Angel Reese after facing criticism for taunting Iowa's Caitlin Clark in the waning moments of the Tigers' 102-85 victory over the Hawkeyes in the Women's National Championship game Sunday.
Reese, who was named the Most Outstanding Player of the 2023 NCAA Women's Championship, tried to get the attention of Clark, and use the "You Can't See Me" gesture she has been seen using throughout the tournament. The display was harshly criticized by some, including white public commentators Keith Olbermann and Dave Portnoy calling the 20-year-old a "fucking idiot" and "classless piece of shit."
Shaq took to Twitter to respond to their cruel remarks, writing "so is your mother" to Barstool Sports founder Portnoy and "shut your dumb ass up leave Angel Reese alone" to the Countdown with Keith Olbermann host.
Reese has since acknowledged the show of support from "Uncle Shaq," who also attended LSU.
"Yeah my uncle Shaq don't play bout me. Period," she wrote.
Reese talked about the moment during her post-game press conference, hinting at how fans become suspiciously silent when certain people taunt an opponent, as opposed to others. "When other people do it, y'all don't say nothing," she explained. "So this is for the girls that look like me, that's gonna speak on for what they believe in. It's unapologetically you. And that's what I did it for tonight."