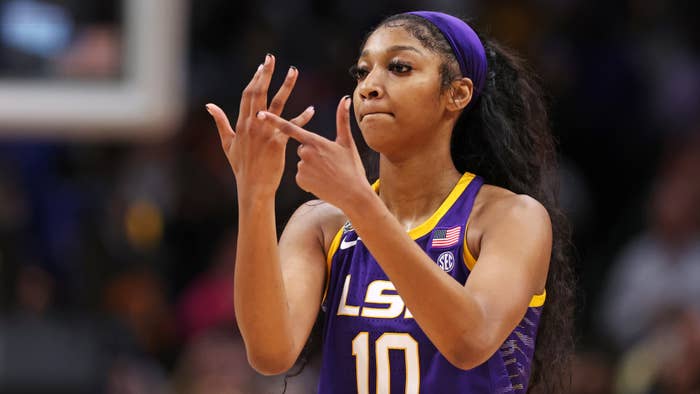 First-Team All-American and now, national champion Angel Reese is a flat out superstar. Whether you like her or not, you cannot question her talent and ability. En route to a national championship, Reese broke the NCAA DI women's basketball record for most double-doubles in a season. 
Unfortunately, that aspect of the game along with Jasmine Carson's heroic performance have been lost in the discussion of the national title. Reese is in the middle of a back-and-forth discourse on whether her actions toward Iowa star Caitlin Clark following LSU's victory were classless or not. 
Several media members took to Twitter to bash Reese, calling her classless, a "piece of sh*t", an idiot, and all types of adjectives to pile on her celebration.  
The media and fans were quick to vilify Reese despite her not doing anything truly wrong.
"All year I was critiqued about who I was," Reese said in her national championship postgame press conference. "I'm too hood, I'm too ghetto, y'all told me that all year. When other people do it, y'all don't say nothing."
Our sports editorial staff used five questions to break down the reactions from fans and media and decide if the reactions were justified. 
Was Angel Reese out of line?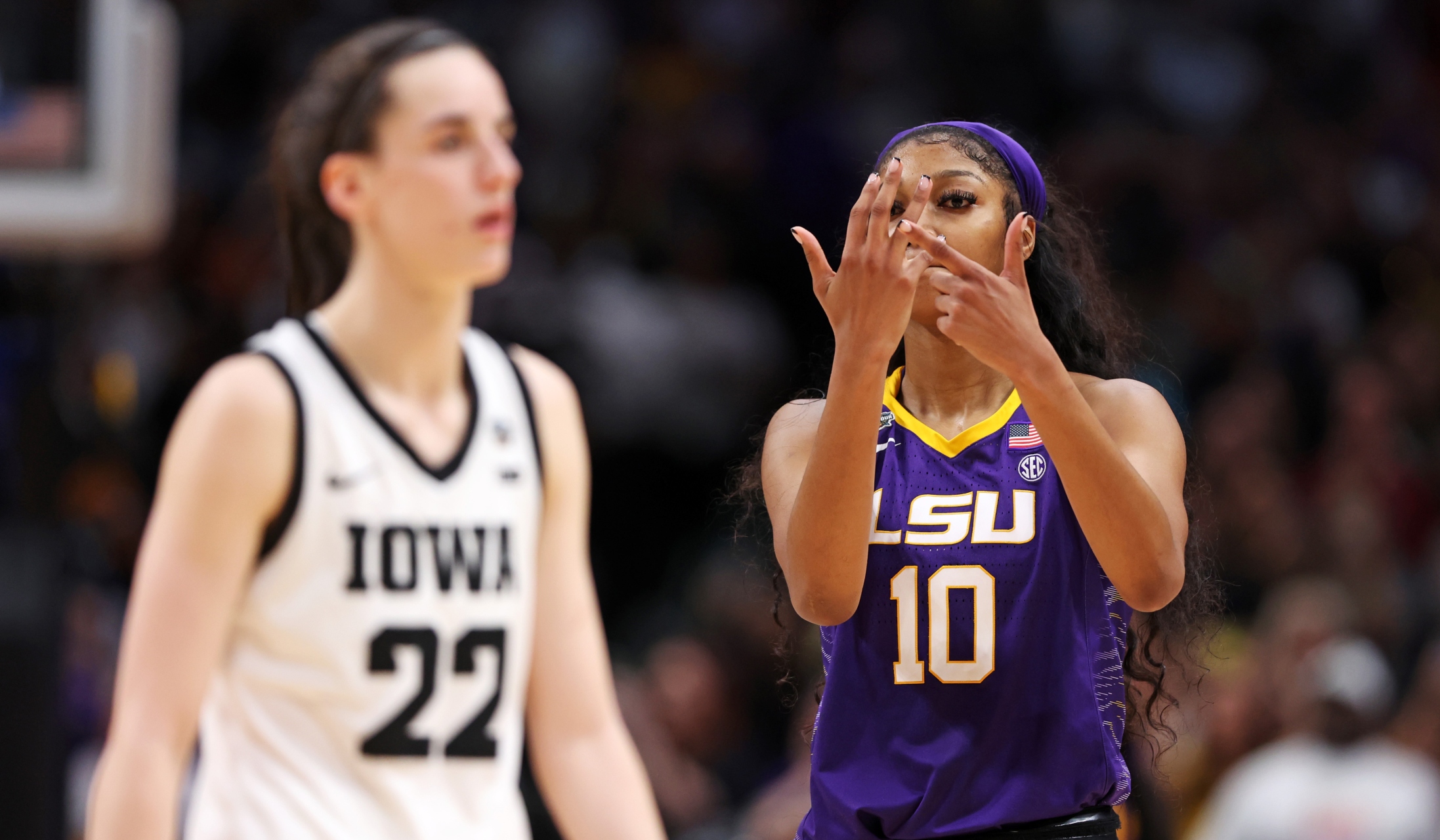 Absolutely not. What we are seeing is a lot of people who just aren't used to women's basketball, in my opinion. With the rapid rise in exposure that came with this NCAA tournament due to Caitlin Clark, South Carolina chasing history and LSU's run towards the title, there were a lot of casual fans who tuned in for the first time this weekend. So seeing the reaction to the action of Angel isn't too surprising but it also is a bit overblown. Caitlin Clark herself hasn't come out and said that she feels disrespected or that Angel crossed the line, so why are so many other people upset about it? She did the same gesture to Hailey Van Lith during Iowa's Elite Eight matchup with Louisville and nobody batted an eye. Lets keep that same energy here. – Kam
As I stated earlier, you don't have to like Angel or how she celebrates so if your gripe is with her celebration, just have the same energy for every other player that does that. She's not the only one but to answer the question, the reaction has been disappointing. From the name calling to questioning her character, there have been a lot of poor responses to the situation. There are popular media personalities that are calling Reese an idiot or labeling her as classless. Caitlin Clark is without a doubt the most exciting player on the collegiate level for men's and women's basketball but when she performed the "you can't see me" gesture in a win over Louisville in the Elite 8, she was praised for it. Fans laughed on Twitter or flooded the timeline with comments like "she's cold." To be honest, that's the correct response in my eyes as sports are competitive and there should be nothing wrong with showing emotion or having fun. – Zion
I truly believe so. This was a transcendent weekend for women's college basketball, where the three biggest stars in the sport this season all converged in the Final Four with legitimate history at stake for all of them. We walked away with the weekend exceeding even the wildest expectations and dominating the sports talk landscape for the weekend and into this week. You couldn't ask for more. Add to the fact that it is likely that Angel Reese and Caitlin Clark will likely be the frontrunners for National Player of the Year honors in 2023-2024 season, we have a potential rivalry brewing with the two best players in the country for next season. Instant familiarity for fans of the sport going into next year, as well as for these young women when they eventually move onto the professional ranks. This was a huge moment for the women's game, which has only grown in popularity and talent over the last decade. – Kam
It's great for the game. Just look at the numbers. Look at the television ratings, look at the social media impressions, and look at the discourse it's created despite some of the discourse being irrational. As crazy and unpredictable as the men's tournament has been, the women's tournament has still been better. The storylines were endless and this game had the entire sports world watching. Caitlin Clark did wonders for the attention but so did Angel Reese. People were watching that game for Angel as well and with her unique talent, passion, and approach toward the game, she put on a show. We need more players like Angel in the game. That's what it is, a game. You're supposed to have fun when you're playing a game. – Zion
Without a doubt it does. This situation sheds light on a bigger issue we've seen in the media. There's a lack of representation and honestly, still a lack of respect overall toward athletes, specifically black athletes. The fact that so many media members were comfortable with publicly calling a 21-year old a "f**king idiot" or "piece of sh*t" is telling in itself. She didn't commit a crime, she didn't do something that was harmful to another player. She talked some smack after winning the biggest game in her career. Quite frankly, some of the media members that were speaking up don't even watch women's basketball enough to know the full story and context of what she did. Other media members were just full of themselves and wanted a cheap shot at the opposing star of Caitlin Clark, who they were ready to crown the greatest ever. – Zion
I definitely think it reflects negatively on the media. Think about this, we have Dave Portnoy calling a college student a classless piece of shit simply because she talked trash. The action wasn't worse than the reaction we have seen. Angel Reese isn't even 21-years-old, yet she has handled this better than the supposed adults that cover and watch her for a living. It's a low moment in sports media for sure. – Kam
Does this stain LSU's national championship as it will be remembered for the wrong reasons?