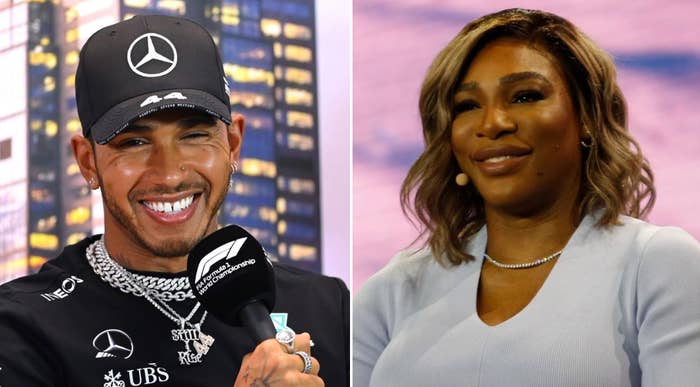 Earlier today, Sky News broke the story that Sir Lewis Hamilton and Serena Williams had each pledged £10m as part of a bid to potentially buy Chelsea FC, the club formerly owned by Roman Abramovich for nearly 20 years until government sanctions forced him to step down and the Premier League disqualified him as a director of the club.
They aren't acting alone in this; in fact, their bid is part of a larger consortium of owners headed up by Sir Martin Broughton, the former Liverpool FC and British Airways chairman. Also in the group of investors are Canada's Rogers family, which holds a big interest in the media and telecoms company Rogers Communications; John Arnold, who chaired the Houston 2026 FIFA World Cup bid committee; and Taiwan's Tsai family, which owns the Taipei Fubon Braves and Fubon Guardians baseball teams.
The Broughton-led consortium is far from the only bid, but they are the most high-profile potential buyers and their consortium is now on a shortlist of three prospective buyers of the Blues. Although it's not unheard of for athletes to invest in or own part of sports team (LeBron's been a small shareholder in Liverpool for more than a decade), it's somewhat unexpected if only because Hamilton is a devout Arsenal fan.
Other bidders include a group led by billionaire real estate moguls Steve Paglicua and Larry Tanenbaum. The third and final group is led by LA Dodgers part-owner Todd Boehly. If Boehly's group is successful, it will make Clearlake Capital by far the club's biggest individual shareholder.
Although the idea of Serena and Sir Lewis becoming part owners of Chelsea is an exciting one, it's worth remembering theirs is just one of three potential bids and it's actually the bid of Paglicua and Tanenbaum that has the support of The True Blues Consortium, a Chelsea supporters' group which was co-founded by former captain John Terry.
The sale process is being overseen by Raine Group, who will be responsible for recommending a preferred bidder to the government so they can secure a special licence approving the sale. A preferred bidder is expected to be chosen by the end of the month once everyone involved has passed the Premier League's owners and directors' tests.