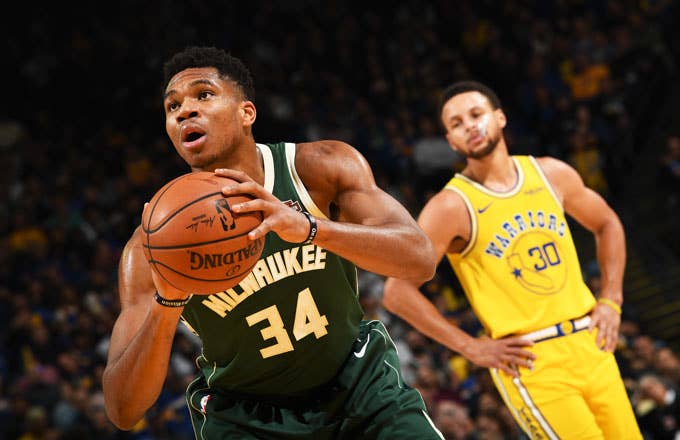 After this season, if things play out in a more conventional manner than they did last time, there should be a window for NBA teams besides Golden State to make a serious title run. However, that window could be open just a crack, at least if the Warriors have their way a few summers down the road.
More specifically, according to The Athletic's Marcus Thompson (and Marc Stein of The New York Times), the Warriors have "internally mused" about acquiring Giannis Antetokounmpo when his contract is up in 2021. If they're unable to get Kevin Durant to come back when he hits free agency this summer, that is. This, of course, isn't all that surprising when you consider that most teams have probably "internally mused" about picking Giannis up at some point. It's just, like, the Warriors do not tire of hanging banners.
Stein does go on to admit Antetokounmpo is a big fan of the city of Milwaukee (peep this if you don't just want to take his word for it), but also notes Giannis and Stephen Curry are close friends represented by the same agency.
As he wrote:
Yet it's likewise undeniably true that Steph and Giannis are buddies who are both represented by the same agency (Octagon) and share a mutual admiration that has resulted in Curry and Antetokounmpo selecting each other first overall with the No. 1 overall picks as captains in the first two All-Star drafts.
At the moment Milwaukee is tops in the East with a 43-14 mark, which would put them on course to play the Warriors in the Finals if the playoffs play out in mundane-to-relatively-mundane fashion. So that would mean Giannis would be seen as being the headlining star that joins the team that bounced him on their way to a title. In other words, it doesn't seem very likely that that's going to happen twice. Would you really want snake emojis following you everywhere you go?