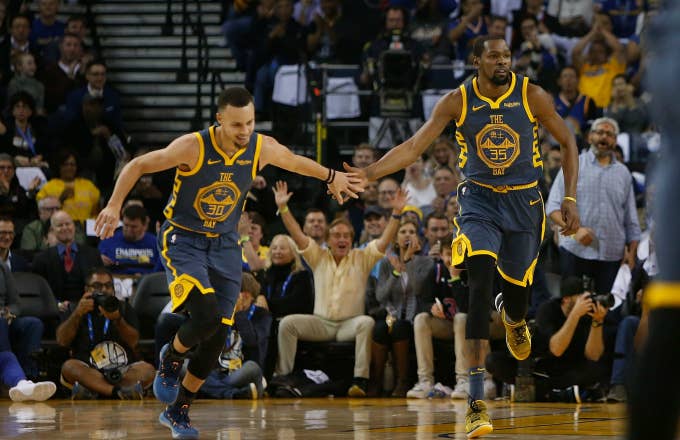 On Wednesday, Feb. 6, Golden State guard Steph Curry stood in solidarity with Kevin Durant, showing his support by explaining to the media why his teammate is frustrated by reports surrounding Durant's pending free agency. 
"Honestly, I think it's him not being able to control his own voice. He's focused on basketball, and that's what he should do. We want to see that KD every day," Curry said. "What he can't control is BS that happens in the media or people making the decision for him or all this other stuff."
Steph's comments come after Durant took it upon himself to fire back at the media for stirring the free agency rumors by linking the superstar to the New York Knicks.
"It's unnecessary," KD responded when asked if the free agency talks have affected his attitude towards reporters. "You got a dude, Ethan Strauss, who come in here who just gives his whole opinion on stuff and make it seem like its coming from me... now y'all piling on me because I don't want to talk to y'all about that."
For nine days leading up to the trade deadline, Durant refused to speak to the media. This led The Athletic's Ethan Strauss to write an article that claimed Durant was leaving the Warriors and the Knicks moved their superstar big man Kristaps Porzingis to clear cap space for KD. Durant, however, took objection to this and insisted he has no connection with New York. 
"I have nothing to do with the Knicks. I don't know who traded Porzingis. That got nothing to do with me. I'm trying to play basketball," KD stated. "And now when I don't want to talk to y'all its a problem with me? Come on, man. Grow up."