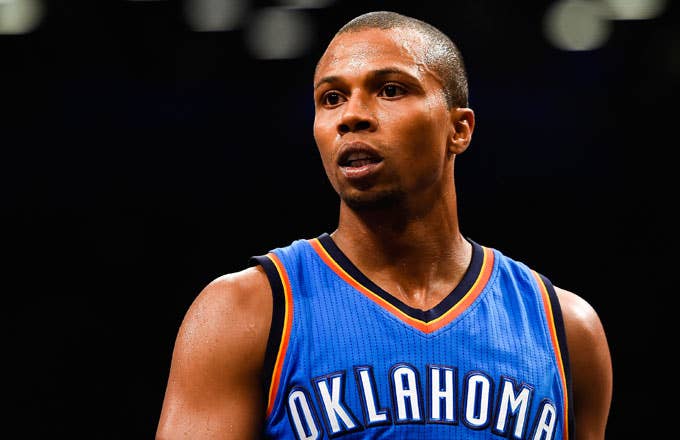 On Monday, ex-prep hoops standout and 2004 first-round pick Sebastian Telfair was sentenced to three-and-a-half years in prison for possessing an illegal firearm.
Back in June 2017, Brooklyn police pulled over Telfair and 18-year-old Jami Thomas after the illegally parked pickup truck they were in was spotted moving without its headlights on. After the traffic stop, police spotted a lit joint in the car and a search of the vehicle yielded three loaded firearms, a semi-automatic rifle, a bulletproof vest, and two bags of weed.
At the time, both men were charged with "unlawful possession of a ballistic vest, unlawful possession of ammunition magazine, possession of a controlled substance, aggravated unlicensed operator of a motor vehicle, and a motor vehicle equipment violation."
Telfair had pleaded not guilty to the charges, but a jury ruled against him this past April as he was convicted of a single count of second-degree criminal possession of a weapon.
After Monday's sentence Telfair was taken away by authorities. He had faced a possible penalty of up to 15 years in prison.
At his sentencing, Telfair accused the entire proceeding of being a set-up. He claimed that several witnesses lied and emotionally asked the judge to intervene to keep him from being sent to prison. Telfair mentioned both his family and his community organizing as reasons that he shouldn't be sent to prison. 
"Please don't take me from society right now," Telfair said. "I am 34. I can go play in China for six years and take care of my family. I'm waiting for my daughter right now to get her period. Real mental illness because I wasn't around… She hasn't even gotten her period yet."
Retired

#NBA

point guard

#SebastianTelfair

convicted of weapons charges Telfair, the cousin of former All-Star Stephon Marbury, played 10 NBA seasons with nine different teams from 2004 to 2013, including the Boston Celtics, Phoenix Suns, Oklahoma City Thunder and Toronto Raptors

pic.twitter.com/HXOclk0m7I
In 2007, Telfair was arrested and charged with felony possession of a weapon. For that he got three years probation.
Previously, in what seems like ages ago, the Brooklyn prep phenom chose to go to the NBA out of high school in 2004, after succeeding LeBron James as Mr. Basketball USA. That year he was taken with the 13th overall pick by the Trail Blazers, and then spent the next decade bouncing around a total of nine teams in the league. He was last listed on an NBA roster with OKC in 2014. He was 29 at the time. After that he spent a few seasons playing pro basketball in China, with his last game in that country coming in 2017.