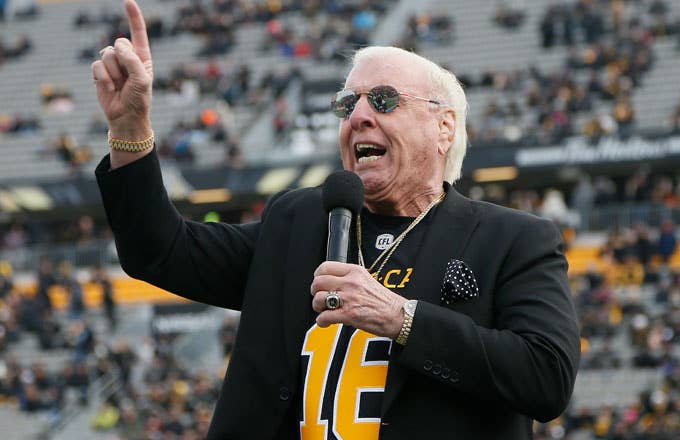 UPDATED 5/22/19 1:55 p.m. ET: Ric Flair has confirmed that he's doing well after his surgery, and that he's thankful for all the support from his friends and fans. "At this time in my life, I never it for granted," he tweeted. "I will be back up and WOOOOOing in no time!" 
TMZ also reports that he has left hospital in good spirits. He was joined by his wife Wendy Barlow as he was discharged from hospital following seven days of treatment.
See original story published on 5/20/19 below.
According to his wife, Wendy Barlow, Ric Flair has made his way out of surgery and is currently recovering. She adds that the doctors who performed said surgery consider it a success.
"He is out of surgery and in the recovery room. Doctors said the procedure was a success! Thank you to everyone for all your prayers and support during this difficult time," Barlow said.
Flair had been hospitalized on Thursday after he was rushed to an Atlanta ER following a non-specific "medical emergency," though the severity of whatever was happening to him was openly disputed:
Originally, Flair was to be operated on shortly after his hospitalization, but his surgery was pushed to Monday due to medical complications that arose. Rumors of Flair's impending mortality drew some ire, including this from Offset:
Though it's still not clear what procedure doctors conducted on Flair, he was reportedly having heart issues over the last several months. He is expected to make a full recovery, though a roast of him that was scheduled for this Friday will no longer be happening as planned.