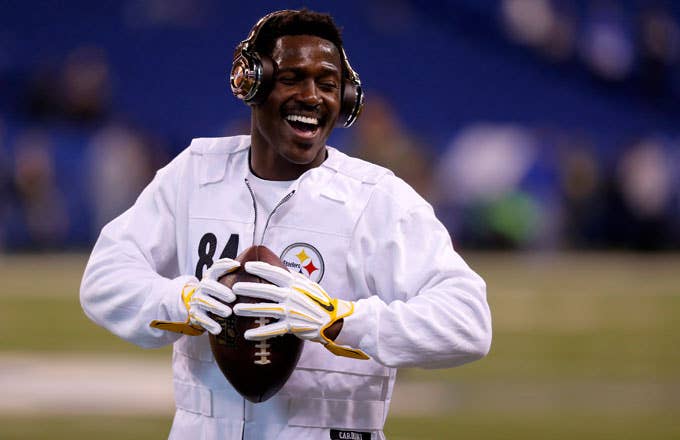 UPDATED 3/6/19 10:15 a.m. ET: The Antonio Brown trade saga may be coming to an end.
On Wednesday (March 6), ESPN's Adam Schefter reported that teams are in talks with the Pittsburgh Steelers and that a trade is expected to be made by Friday.
This comes after it was reported that several teams have shown interest in securing AB. The Raiders, Redskins, and Titans are the franchises that have made the strongest push. 
See below for original story published on 3/2/19.
Probably every NFL team looking to be competitive over the next few years discussed acquiring Antonio Brown once he publicly declared he wanted out of Pittsburgh. That alone isn't news. However, ESPN's Adam Schefter says that the trio of franchises that have reportedly shown the most interest in landing the All-Pro wideout are Oakland, Washington, and Tennessee. That means that the competition to land Brown could come down to Gruden vs. Gruden. Oh...and also Mike Vrabel:
Schefter adds that other teams have had conversations with Pittsburgh regarding Brown, which is unsurprising. That means that any of the other 28 franchises not already mentioned could still theoretically emerge to swoop in and grab the seven-time Pro-Bowler, but those three aforementioned teams are believed to be the favorites.
Schefter says that the Steelers' initial asking price was a first-round pick in addition to "other compensation." But that has since been reduced to just a first-rounder.
While Brown reportedly asked for a trade at the immediate conclusion of the regular season, he wasn't officially put onto the trading block until he met with Pittsburgh's brass in February. He reiterated his desire to be dealt earlier this week in an interview with ESPN.
Brown will turn 31 in July. This past season, he made the Pro Bowl for the sixth straight year and finished with 104 receptions for 1,297 yards, in addition to an NFL-leading 15 touchdown catches.