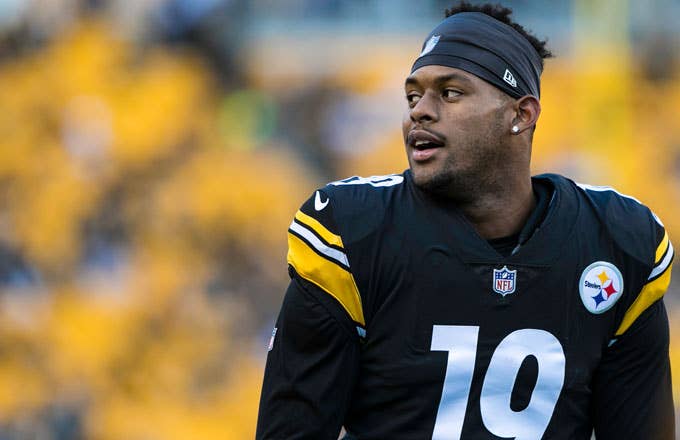 On Sunday evening JuJu Smith-Schuster shared his intent to fulfill a promise to a Steelers fan who had already sacrificed the right side of his cranium to get a giant Steelers logo inked onto his head. As stated by a Bleacher Report tweet, Smith-Schuster said he'd gift the fan, identified as Joel Schock, season tickets if said tattoo enthusiast also got Smith-Schuster's signature permanently etched onto his dome. Say no more:
On Friday JuJu explained to gathering media the soon-to-come-true origins behind the curious and probably bad decision. He said the fan had asked him for an autograph, and that the Steelers logo was already displayed upon on his head.
"He had the Steelers logo tattooed on his head," Smith-Schuster explained. "So he had a mohawk, and he was like, 'Can you sign my helmet?' I was like, 'What helmet?' I signed his head."
JuJu said he gave the fan a stipulation that could land him tickets to any game (whether or not that meant season tickets appeared unclear until Smith-Schuster's tweet). "If he gets that tattoo on his head, I'll give him any tickets to any game," the 2018 Pro Bowler explained.
Seems like being a man of your word would be, by default, the best lesson to take from this. That or just get your team's logo indefinitely pinned to your skull for season tickets. It's tough to tell.