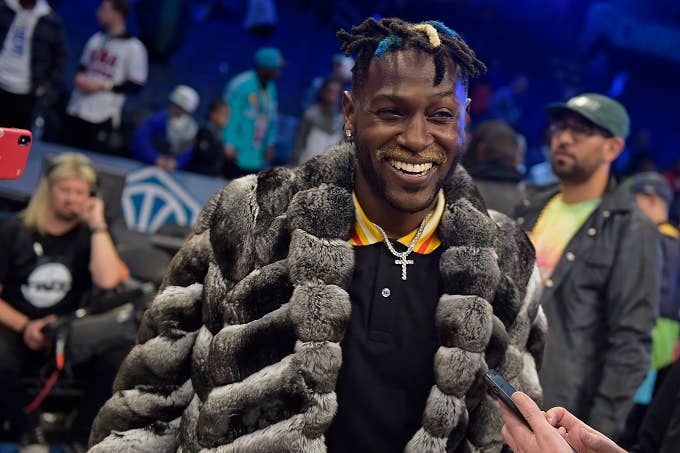 UPDATED 4/8/19 2:15 p.m. ET: The Antonio/JuJu saga is not quite over, as AB took to Instagram to share a screenshot of JuJu reaching out to him while he was still at USC. "Your a great man on and off the field. Do you have any tips that can help take my game to the next level?" JuJu wrote via DM.
Brown captioned the IG post with a mic drop and, "#OnToTheNext."
The comments section for AB's IG turned into a war zone for a few other celebs. Actor and comedian Michael Rapaport criticized Brown over the decision to share the screenshot; Kevin Durant, who has been in a back-and-forth of his own with Richard Jefferson, shared a succinct response to Rapaport: "Get a life."
See below for original story published on 4/7/19.
Antonio Brown started off his day with a bit of advice, telling his followers to keep their emotions off the internet. Unfortunately, Brown didn't take his own advice and started tearing into former teammate JuJu Smith-Schuster.
Keep your emotions off the internet
The former Steelers wide receiver scoffed at the idea that JuJu was the team MVP for the 2018 season. The newly minted Raider decided to point out that JuJu fumbled during the Steelers' final offensive possession in a December game against the Saints. Pittsburgh ended up losing 31-28.
Emotion: boy fumbled the whole post season in the biggest game of year ! Everyone went blind to busy making guys famous not enough reality these days ! 🤙🏾 by the way check the list

https://t.co/2SWWT8k0jx
JuJu sent Brown's own advice back at him.
Keep your emotions off the internet
The unexpected attack did lead JuJu to feel some type of way. He wasn't finished talking about Brown, pointing out that he was confused by the sudden broadside.
Crazy how big that ego got to be to take shots at people who show you love! Smh

"All I ever did was show that man love and respect from the moment I got to the league," he said. "I was genuinely happy for him too when he got traded to Oakland w/ a big contract, and now he takes shots at me on social media?"