 It's hard to tell whether or not this is 100 percent real—can you really trust anything that you see on the internet anymore?!—but it appears as though Oakley has teamed up with a company called Martin Aircraft Company to create the coolest golf cart we've ever seen. It's actually a golf cart jetpack (yes, a golf cart jetpack!) and Oakley introduced it to the world on Monday by releasing a video that features Bubba Watson (and what appears to be a Bubba Watson stunt double) flying around in it. If this seems like a familiar scenario, it's because Watson previously teamed up with Oakley back in 2013 to unveil a hovercraft golf cart that was just about the coolest thing we had ever seen...until today.
As you can see in the clip above, the golf cart jetpack has a 210-horsepower engine and can fly "up to 3,000 feet" in the air "at just under 50 miles per hour." Watson says the jetpack will help golfers get around on courses more efficiently than they can in regular golf carts, and he also mentions that the jetpacks will give them a competitive advantage over those who are unable to get a bird's eye view of a hole prior to teeing off.
Now, the bad news: According to the Oakley website, the golf cart jetback is going to sell for a whopping $200,000—if, of course, this test model eventually meets FAA standards. You're also going to need to be trained and certified to use it before you strap yourself into one. Additionally, the jetpacks won't be available commercially until at least December 2017, at which time everyone will probably want one. And we say all that knowing full well that we could wake up tomorrow and find out that Oakley was just pulling our leg here in order to generate publicity for the 2016 Summer Olympics where Watson will compete. But this thing appears to be real, doesn't it?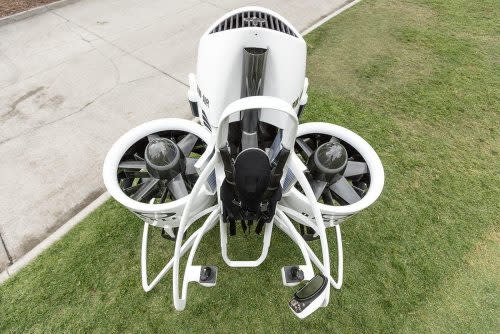 At any rate, the jetpacks sure look cool and they'd make golf (and life!) 100000000 times better. So here's to hoping that these things are more than just another internet prank.