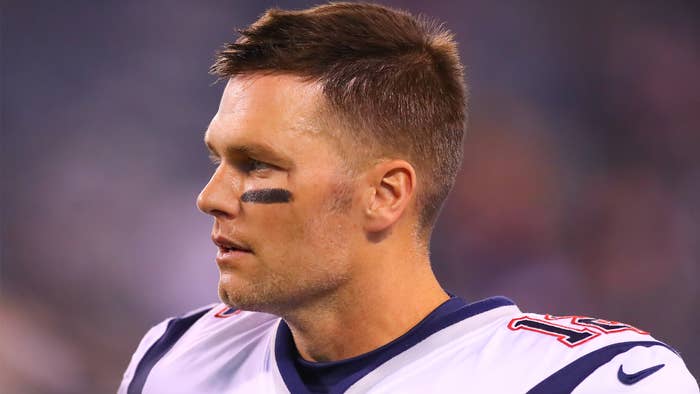 UPDATED 3/17, 2:00 p.m. ET: Colin Cowherd is reporting that according to his unnamed source, Tom Brady will sign with the Tampa Bay Buccaneers on Wednesday. 
"I was told 35 minutes ago that Tom Brady signs tomorrow with Tampa Bay," Cowherd said on Tuesday. "He had made a decision and talked to Tampa Bay yesterday. He was willing to re-sign with New England but he watched Stefon Diggs and DeAndre Hopkins go to other franchises and then called Robert Kraft an hour and a half later and says 'I'M OUT'… I am told Tampa is the choice and he will sign tomorrow... This is not a 'football source', it is a 'Icon' source, and somebody in Tom's stratosphere that knows Tom and who is a famous person. He says Tampa."

Cowherd specified that his source is not a "football source," but one of "wealth and celebrity, connected to sports."
See original story below. 
Tom Brady has announced he will leave the New England Patriots to play elsewhere.
For the first time in his illustrious career, the 42-year-old Brady dove into the free agency market and was being courted by a host of teams.
One of the teams that had initially eyed Brady was the Tennessee Titans. They took themselves out of the running by signing Ryan Tannehill to a massive contract worth $118 million.
The Las Vegas Raiders and Los Angeles Chargers were also interested in Brady's services. Both the Raiders and Chargers were reportedly ready to offer Brady a deal that rivaled the contract extension Robert Kraft and the Patriots were prepping for Brady. 
In New England, the Pats were reportedly prepared to compensate Brady for the years of pay cuts he took to allow the team to acquire championship talent. The front office believed that Brady had two to three years of professional football left in him. As a result, they were going to offer him a two- or three-year contract extension that would be worth around $30 million a year. Yet from this year's struggles, it was clear the Pats are focused on rebuilding their roster to be sustainable for life without Brady.
With his window closing quickly, Brady didn't seem interested in being part of a rebuilding process. This led people to believe he would exchange the idea of being a lifelong Pat to play on a team that's more equipped to win right now.
As NFL Network insider Ian Rapoport notes, the Tampa Bay Buccaneers were also in the running to sign Brady.
ESPN's Jeff Darlington also reported that Brady would like to play somewhere close to New York.
Brady took to Instagram to share a message with the Pats, his fans, and his followers. He wrote, "I am grateful for all that you have taught me—I learned from everyone. You all have allowed me to maximize my potential and that is all a player can hope for. "
He continued, "I couldn't be the man I am today without the relationships you have allowed me to build with you. I have benefited from all you have given me. ... You opened your heart to me, and I opened my heart to you. And Pats Nation will always be a part of me."
Read his full message below.
ESPN's Adam Schefter shared on Tuesday morning that while Brady has announced he won't come back to the Patriots, he "has not made a decision on where he will play next season and he will be exploring his options."
Shortly after his stunning announcement, Patriots owner, Robert Kraft, released his own statement on Brady's departure. 
"It's not the way I want it to end, but I want him to do what is in his best personal interest," Kraft told ESPN. "After 20 years with us, he has earned that right. I love him like a son."
Kraft told Stephen A. Smith that if Brady wanted to stay, they could have made it happen. 
"But Tom Brady wanted to leave," Kraft said.

Patriots head coach Bill Belichick also released an official statement.