Suns Reportedly Didn't Recruit D'Angelo Russell Because He'd Be a Bad Influence on Devin Booker
Russell ended up getting the last laugh though.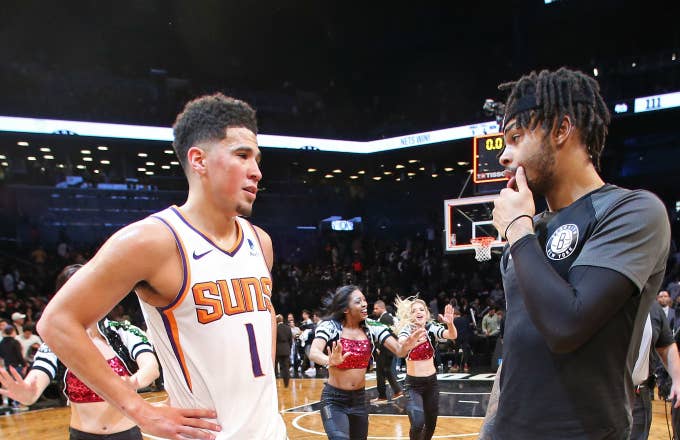 Getty
Image via Getty/Nathaniel S. Butler/NBAE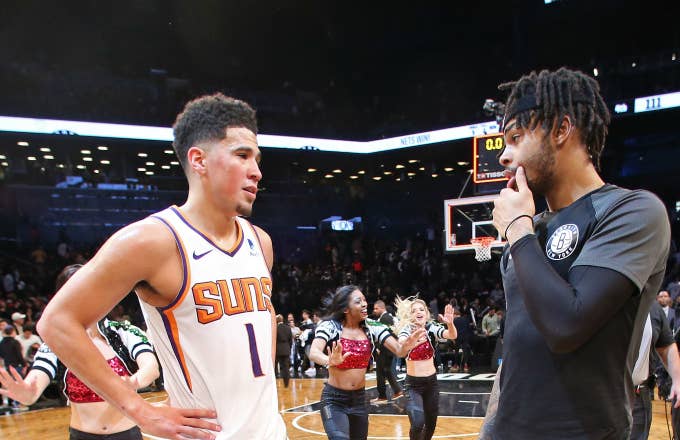 Despite proving himself as an impactful player during his stint with the Nets, D'Angelo Russell's free agency was filled with questions surrounding his locker room presence. This potential polarizing effect reportedly led to a cold response from the Phoenix Suns. 
According to the Arizona Republic's Duane Rankin, the Suns' rising star Devin Booker campaigned for the team to pursue his good friend D'Angelo Russell. But Phoenix passed on adding the 23-year-old combo guard in favor for the veteran Ricky Rubio. One alleged reason behind this move is because the front office felt "Russell wouldn't have been a good influence on Booker off the court." (The Athletic's Jared Weiss reported Saturday that Phoenix was ready to "exhaust options" to sign Russell.)
Although Booker and Russell are basically the same age and both entered the league in 2015, Russell has already had a highly publicized journey around the NBA. This started when the Lakers shipped Booker to Brooklyn in 2017 for basically nothing in return. Around the time of the trade, there were reports coming from within Los Angeles that questioned Russell's work ethic and divisive personality.
These were accompanied by rumors that Russell tried to prank then-teammate Nick Young by recording him cheating on his fiancé Iggy Azalea. Somehow this video got leaked, leading to the demise of Young and Azalea's relationship and the team shutting out Russell. Also, in May, Russell was cited for marijuana possession after trying to transport weed through New York's LaGuardia Airport. 
Despite these antics, Russell's on-court production has not suffered. The guard put together an amazing year with the Nets, posting career highs in points (21.1 ppg), rebounds (3.9 rpg), and assists (7.0 apg). As a result, many teams started to evaluate DLo's production compared to his personality. This led former-Lakers president Magic Johnson to go on record stating that Russell had matured since his time in L.A.
Yet Russell ended up getting the last laugh. Desperate to make room for their incoming superstar hauls of Kevin Durant and Kyrie Irving, Brooklyn conducted a sign-and-trade with the Warriors to send DLo to Golden State. Because there needed to be a balance of cap space on both sides, Russell was able to sign a massive four-year $117 million deal with the Warriors. This was a huge jug for a player that many feel is only there to keep the team afloat while Klay Thompson rehabs his torn ACL.