D'Angelo Russell Heading to Golden State on Sign-and-Trade Deal, Andre Iguodala to Grizzlies
The Golden State Warriors have made a major move.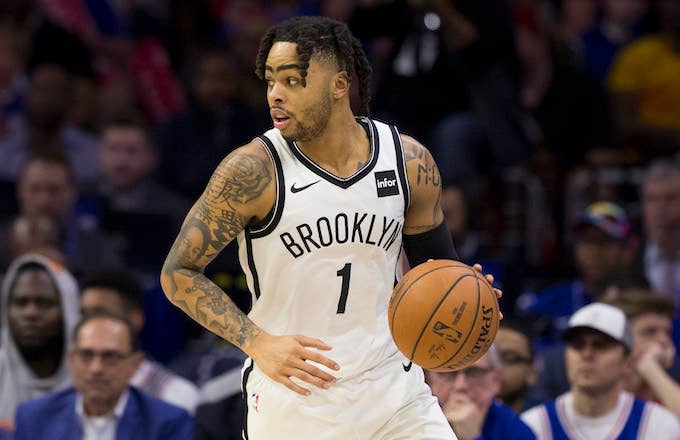 Getty
PHILADELPHIA, PA - APRIL 23: D'Angelo Russell #1 of the Brooklyn Nets dribbles the ball against the Philadelphia 76ers in Game Five of Round One of the 2019 NBA Playoffs at the Wells Fargo Center on April 23, 2019 in Philadelphia, Pennsylvania. NOTE TO USER: User expressly acknowledges and agrees that, by downloading and or using this photograph, User is consenting to the terms and conditions of the Getty Images License Agreement. (Photo by Mitchell Leff/Getty Images)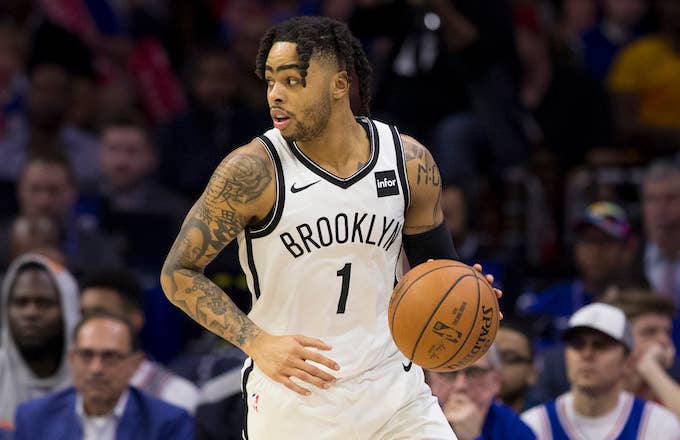 The Golden State Warriors have made a major move.
D'Angelo Russell will be joining the Warriors on a four year deal that's worth $117 million. The news comes via ESPN's Adrian Wojnarowski. 
Golden State and Brooklyn have agreed on a sign-and-trade, sending D'Angelo Russell to the Warriors on a four-year, $117M maximum contract, league sources tell ESPN.
Russell, who was drafted by the Lakers with the second overall pick in 2015, averaged 21.1 points and 7.0 assists during the 2018-19 season. He might not be a Warrior for long despite those numbers. The New York Times' Marc Stein said that Golden State is looking to trade Russell away; the franchise simply didn't want to see Durant leave without something in return.
"De'Angelo Russell does not fit there whatsoever. They just did not want to see Kevin Durant walk out the door with no compensation. ... They will trade him. It's just a matter of when." -

@TheSteinLine

on

@dpshow
Golden State is trading Andre Iguodala to the Memphis Grizzlies, league source tells ESPN. Warriors are sending a 2024 protected first-round pick in the 2024 (protected 1-4), 2025 (protected 1) and 2026 unprotected.
Golden State has to unload salary elsewhere to make this sign-and-trade happen --- which means Andre Iguodala could be on the move, league sources tell ESPN.
Memphis' new front office has been gathering up young assets and draft picks in past several months.

https://t.co/XHbOFm722Y
Some people have joked that Iguodala was traded after his Breakfast Club interview. During the chat, Iguodala made comments suggesting that Mark Jackson was being blackballed by the league. When Charlamagne tha God asked outright if that was the case, Andre responded in the affirmative. "I do," he said.