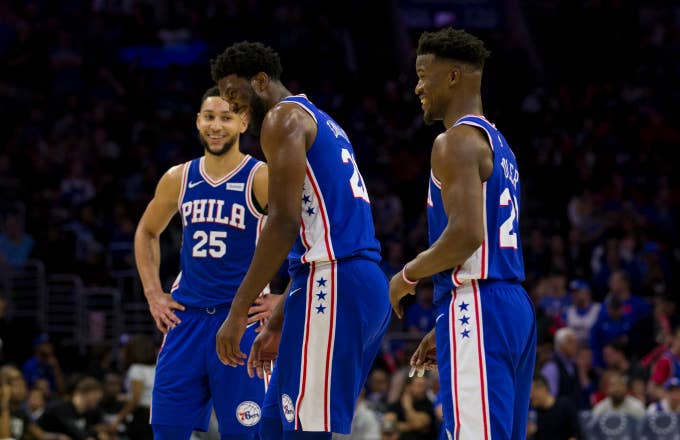 UPDATED 04/19/19 10:52 p.m. ET: After a few Nets players took offense to his laughs, Joel Embiid clarified that he actually was pretty sorry for the hard elbow. The star center told ESPN that he did ask Jarrett Allen if he was OK multiple during Game 2. Like many Nets fans, Embiid believes that he "probably should have been ejected" for the elbow.
As for why he laughed, Embiid explained that his teammate Ben Simmons' chuckles in that post-game presser caught him off-guard.
"It's unfortunate that I laughed," he said. "I guess it was surprising for [Simmons] for me to be kind of humble. Which I am humble, but when it comes to basketball, I like letting people know that I cannot be stopped and that I'm the most unstoppable player in the league."
See original story below.
Sixers' Joel Embiid has proved to be one of the NBA's biggest trolls. This was on full display when he found humor in elbowing Nets' big man Jarrett Allen in the face. This, however, was no laughing matter for Brooklyn as multiple Nets players opened up about Embiid's antics. 
First to comment was Nets' shooting guard Caris LeVert who bluntly stated "We didn't really like that. We thought it was disrespectful."
Following LaVert was Brooklyn veteran Jared Dudley. Like any good teammate, Dudley echoed LaVert's sentiments. Yet instead of channeling LaVert's "matter-of-fact" energy, Dudley used this opportunity to let off some well-timed shots at the 76ers.
"I felt a certain type of way about it. Just because you're laughing when somebody could've gotten really, really hurt," Dudley explained. "That's been Embiid's personality. But just because it's your personality doesn't mean it's right."
Dudley then directed his attention towards Ben Simmons, who also had a laugh at Allen's expense. Instead of questioning Simmons' laughing, Dudley decided to critique the point guard's skills.
"Ben Simmons is a great player in transition," Dudley explained. "And once you get him into halfcourt, he's average."
The Nets' hostility towards Philly's stars come after Embiid was assessed a flagrant foul for elbowing Jarrett Allen in the chin while making a move towards the rim.
Many thought Embiid should have been given a technical or at least a flagrant two for the elbow as it seemed to be done with malicious intent. When asked about the incident following their Game 2 victory, Embiid and Simmons couldn't help but chuckle. Although Embiid insists it wasn't intentional, the Nets seemed not to be convinced.
Sixers' Joel Embiid & Ben Simmons crack up laughing while Embiid was trying to apologize for flagrant elbow to Nets' Jarrett Allen during Game 2 win: "I got him pretty good but I'm sorry about it. it wasn't intentional. .... I'm not usually humble that's why he's laughing."

pic.twitter.com/Ll1wuTHEk3