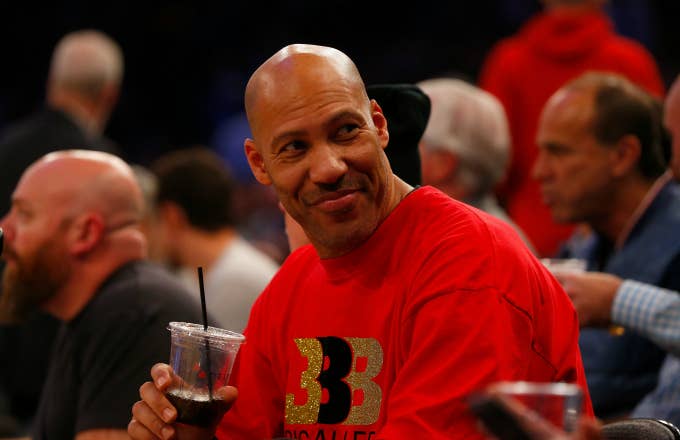 If someone says they wouldn't want a father that believes in them the way LaVar Ball believes in his sons they're lying. Throughout the years, Ball has radiated confidence in the Ball brothers through boisterous and bold statements. This unwavering belief in his sons was on full display recently, when LaVar claimed that his children will make their first billion dollars before they're done hooping.
Although this month's Slam Magazine cover story focuses more on his sons, the patriarch of the Ball family did detail how he plans to create generational wealth for his children.
"My boys are gonna be the first ones to be billionaires playing on the court. I got other stuff in line to get that," Ball said. "Whatever my boys are playing for on the court, that'll be chump change. You don't have guys doing that. One guy gets a championship and next thing you know he wants his own team, bigger contracts."
From the outside-looking-in, this seems like a very lofty dream. But LaVar does have a decent track record when it comes to making bold predictions. Before his eldest son Lonzo was drafted, Ball affirmed that his son will be a Laker stating on several occasions that it's the only team Lonzo will play for. This turned into a "W" when the Lakers selected Lonzo with the second pick in the 2017 NBA Draft. He then used the hype surrounding the Ball name to launch his Big Baller Brand of clothing and sneakers, instead of having his sons sign a traditional shoe deal. 
Somehow, LaVar even turns the family's "losses" in victories. Following LiAngelo's UCLA/theft incident, Ball realized the potential pitfalls of the NCAA. So he shipped both LiAngelo and his youngest son, LaMelo (who was a junior in high school) overseas to play against professional basketball players. This also led to the creation of the Junior Basketball Association, which is Ball's alternative to the NCAA. Not even the firing of Big Baller Brand co-founder Alan Foster could cloud LaVar's vision since the foundation he created turned LaMelo into a five-star recruit that's toying with entering the 2020 NBA Draft.
Ball does acknowledge the idea of his sons having that much money in the "Player First" era of the NBA could frighten owners. To this, he says that teams that build the Ball dynasty with his kids will have a committed core that will play out of love rather than necessity. 
"My boys will go 15, 20 years without breaking up. You don't get that anymore," Ball explains. "They're not playing for the bag. It's not, 'If you don't give me $50 million, I'm gone.'"