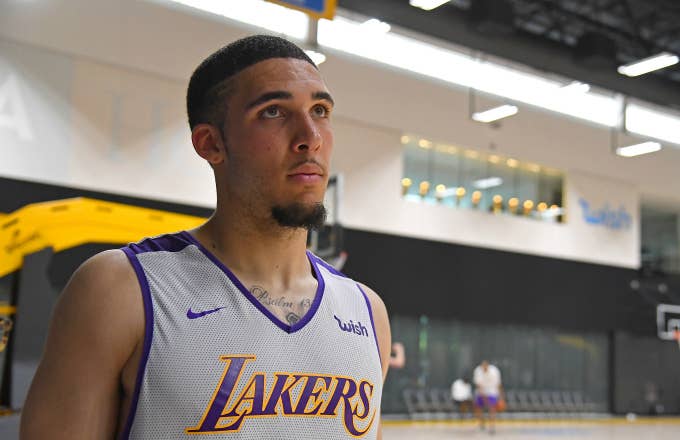 LaVar Ball strolled into the set of FS1's Undisputed and correctly predicted the Lakers' front office implosion months before. On Tuesday, Ball returned to the show to touch on the drama and how it impacted his family.
In May, ESPN released a article detailing various issues with the Los Angeles Lakers, specifically around Magic Johnson and Rob Pelinka. LaVar Ball told Skip Bayless and Shannon Sharpe that his second-oldest son, LiAngelo Ball, was also caught in Johnson and Pelinka's web of lies. According to Ball, Johnson and Pelinka promised him they would give LiAngelo a shot with the Lakers. But when it came time to draft his son, the pair didn't keep their word.
"One of the things they told me is, 'We keep family together,'" Ball explained. "Now if you want Lonzo to lead this team, why don't you get a piece that works well with him which is his brother? You gotta get 'Gelo first. You at least got to give him a chance to play with Lonzo. You should have at least got him in Summer League. I thought they were going to take him with the last pick."
Ball has long insisted that his mission as a parent is to get all of his sons in the NBA and playing for the same team. Ball explained that he had closed-door meetings with Pelinka and Johnson where they understood each other's mission and the pair gave him their word. 
"We did talking just like grown men," Ball said. "We don't have to put it all out there. I ain't saying put my boy on the team or nothing like that. Let him play with Lonzo and see how he do."
Ball also responded to rumors that LeBron James will leave Los Angeles if the Lakers fail to build a championship roster. He thinks LeBron has the right pieces around him to win without another free agent. 
"LeBron ain't going nowhere. LeBron is looking at the big picture," Ball said. "He's got enough talent on the team to make them win. Without a free agent."