 "I'm a Raptors fan to the death."
Drake is in Indianapolis for the 2010 Indiana State Fair—a carnival of sorts with rides and bucket loads of fried foods—where he's set to perform. The 23-year-old-rapper, who just released his debut album Thank Me Later in June, is being interviewed by The Life, a documentary series aired by ESPN, about a number of things—including the Toronto Raptors.
"We just, I"—he sighs—"and I'm a Raptors fan," says Drake, who's wearing a plain black T-shirt and black baggy jeans tucked into black Nike sneakers. "I'm very patriotic about my city, but now that Chris [Bosh] isn't there we need something. Something has to give."
He continues: "We'll pull it together, Toronto is a great city. We've had some great players, we have a great facility, a great spirit. I think eventually Toronto could be one of the top contenders in the league, I hope." 
Drake, like most Raptors fans at the time, seemed sanguine about the team's future—but also disappointed. His hometown squad just lost its star player and the eighth and final playoff spot to the Chicago Bulls, finishing an agonizing one game behind. 
Over the next few years, the Raptors, under general manager Bryan Colangelo, would try to build on the roster: re-sign Amir Johnson, trade for Kyle Lowry, draft Terrence Ross, extend DeMar DeRozan's contract, give Andre Bargnani an even bigger role in the offense, and trade for Rudy Gay (the team thought he'd be their new savior). Still, season after season, the ball club finished with ignominious records (22-60 in 2010-2011; 22-43 in 2011-2012; and 34-48 in 2012-2013) and continued to miss the playoffs. 
But things were about to change. And while Drake couldn't have predicted it then, he was about to help breathe new life into the struggling franchise.
Drake is standing in the middle of a stage behind a podium with a banner attached to the front that reads "ALL-STAR 2016 TORONTO." It's Sept. 30, 2013 and he's at a press conference in the atrium of the Air Canada Centre where it was just announced that the 2016 All-Star Game will be hosted by his hometown, the first time the event will be held outside of the United States. Behind him are future NBA commissioner Adam Silver; newly-appointed Raptors president and general manager Masai Ujiri; Maple Leaf Sports & Entertainment (MLSE) president and CEO Tim Leiweke; then-Mayor Rob Ford; MLSE chairman Larry Tanenbaum; and Michael Chan, minister of tourism, culture, and sport—all men well over their 40s, dressed in black suits. 
The 26-year-old rapper looks out of place. He's wearing a white button down shirt and a skinny black tie underneath a blue suit; he has a horizontal line shaved into the left corner of his hairline. But out of place or not, everyone—including the mob of reporters—is here to see him. The Boy was just named the Raptors' Global Ambassador. 
"I'd like to thank Tim and Masai for granting me this opportunity," Drake says proudly, like a kid who was just invited to sit at the big boys' table. "I travel the world performing and everywhere I go, I preach the gospel that is Toronto. I just wanna let you know that I'm extremely excited to finally be a part of the team that I grew up as a fan of, a die-hard fan of, like everyone else from this city." 
Later that day, he tells ESPN that "today's probably one of the best days of my life." 
The Raptors' partnership with Drake is the first of its kind in the NBA. Unlike "superfans"—namely the New York Knicks' Spike Lee or the Los Angeles Lakers' Jack Nicholson—Drake is an official part of the organization; unlike Jay Z before he sold his stake in the Brooklyn Nets in 2013, Drake doesn't own a piece of the team. He isn't even on the payroll. (He did, however, get courtside season tickets as part of his overall deal.)
Drake's exact duties as Global Ambassador are undefined. So far, those obligations have included consulting on the team's rebranding and helping with initiatives associated with this coming weekend's 2016 All-Star Game. But the rapper's biggest contribution has been defining a new identity for the ball club. "I think he's helped with the culture. I think that's his biggest accomplishment," says Leiweke, the executive responsible for bringing Drake into the fold. 
Now, the rapper's footprints are all over the franchise: "Drake Night" and "Black and Gold Night" are hosted at the Air Canada Centre in his honor; free T-shirts emblazoned with both the logos of the Raptors and Drake's label October's Very Own (OVO) are handed out during games; there's a clothing collaboration between the Raptors, OVO, and American sports clothing company Mitchell & Ness; there was even a "Hotline Bling" booth installed at the ACC. 
But the lifespan of this partnership still remains to be seen. With Leiweke having left MLSE in June 2015 to launch L.A.-based development and investment company Oak View Group, some believe Drake may be out of the door soon, too. Some suggest he has a lesser presence with the franchise now, and say he hasn't attended as many games this season and isn't as active about the team on social media. After two full years of being the Raptors' Global Ambassador, is this weekend's All-Star Game the rapper's last hurrah?

"He just made the Raptors cool. I don't think you can put a dollar figure on that."
—Cabbie Richards
In April 2013, MLSE hired an L.A. executive known for his flamboyant management style to be its new president and CEO. Leiweke—58 with bearish looks and impressively-arched eyebrows—was joining the company from Anschutz Entertainment Group (AEG), which owns the Los Angeles Kings, the Los Angeles Galaxy, part of the Los Angeles Lakers, as well as several sporting and entertainment venues around the world. During his tenure at AEG as president and CEO, he brought the Stanley Cup to southern California with the Kings and lured David Beckham to sign with the L.A. Galaxy. (Leiweke has plenty of high-profile friends.) 
When he assumed the biggest sports job in Canada, Leiweke made his priorities clear: turn the teams under MLSE's umbrella into champions, just as he'd done in L.A. He didn't waste any time. On the NBA front, one month into his new gig, he poached NBA Executive of the Year Masai Ujiri from the Denver Nuggets, ordered a major restructuring at the MLSE offices, and reached out to Drake. 
Drake had previously tried to approach the Raptors, but no one returned his calls. This time would be different. "I came from AEG so we had a presence in the music industry. We were in the promotion business, we were in the venue business and thus had a lot of relationships in the music industry," says Leiweke. "Many of those relationships came back to me and said I should meet Drake when I was headed to Toronto." 
After arriving in Toronto, Leiweke called Future The Prince, Drake's DJ, who he was introduced to by Scooter Braun, the showbiz giant who manages Justin Bieber. Leiweke admits he didn't meet with Drake immediately because he wanted to wait until he'd set up the Raptors' new management team. "Once Masai was on board—because this was really Masai's team and I was just serving as needed—we activated with Drake directly." From there, he arranged for a casual sit-down with Drake and Ujiri at e11even, a swanky restaurant owned by MLSE in downtown Toronto, walking distance from the Air Canada Centre. 
At the time of their meeting, Drake was already a global phenomenon. But Leiweke wasn't impressed by the rapper's fame. "I didn't care if he had 20 million followers or two," he says. What he looked for instead was an individual who understood Toronto, the NBA, and Canada. "We didn't need someone to start endorsing us. We needed a Toronto branding partner that got what we needed to do and could help get us to the right place," he explains. And Drake—the unofficial mayor of Toronto—was the perfect choice for the role. "I think, like Magic Johnson is for L.A. Drake is for Toronto," Leiweke maintains. "Not only is he the hometown boy, he's the ambassador, the spokesperson, the band leader, and the greatest endorser for the city you could possibly wanna have."
Leiweke says they all—Drake, Ujiri, and Leiweke—shared the same philosophy of the Raptors. "We had heard a lot about kinda why players didn't want to stay in Toronto, why the NBA wasn't working in Canada. I think Drake was very intune to Masai's and my philosophy of this isn't about the negative," he explains. "It's about the positive and we need to create a brand that's unique to Canada and Toronto. We're the only team in all of Canada in the NBA and we should celebrate that and not run away from it." 
"We saw the world and the opportunity the same way, and made a decision to try and engrave him in what we were trying to do with the basketball team, with its brand and its new image, and the All-Star Game," he adds. On Sept. 30, 2013 the Raptors and Drake partnership was born.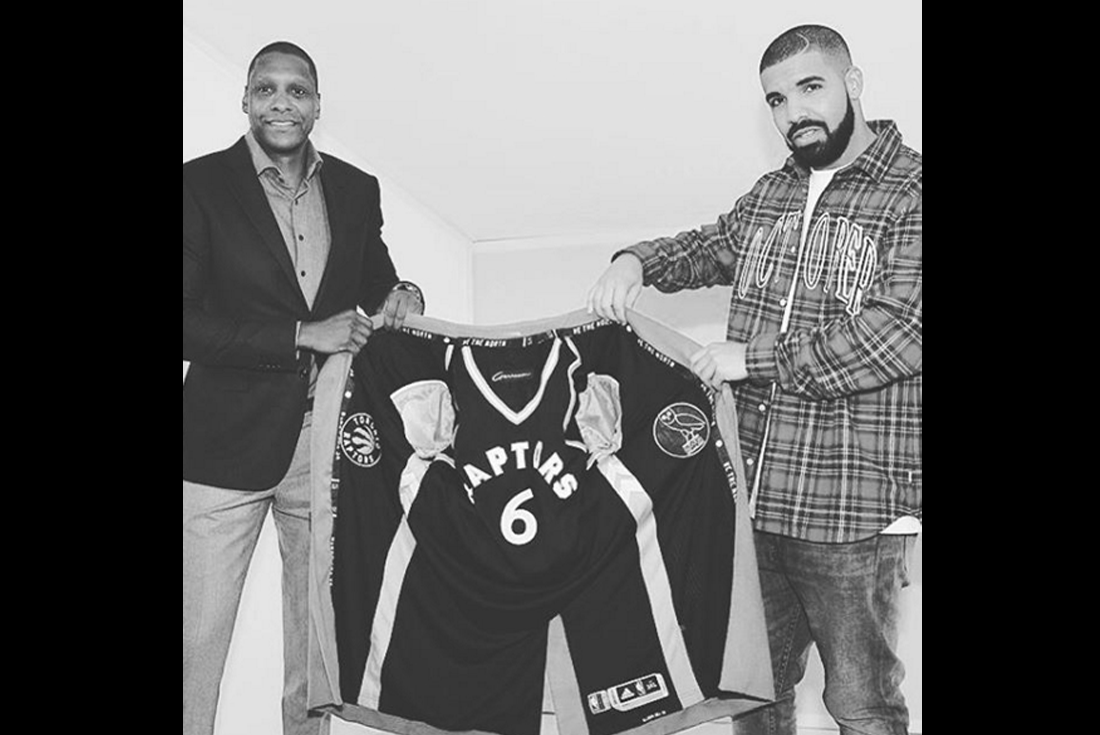 When the news was announced, nearly every major publication covered the story. Understandably so: The Raptors had just linked itself with Toronto's No. 1 fan and, more importantly, the biggest star in the world. "I thought it made perfect sense. I was actually amazed that more teams don't do this kind of thing," says Cathal Kelly, a sports reporter for The Globe and Mail who has been following the partnership for some time. "Do you know anyone who loves the city that much? I think the Raptors quite brilliantly decided to tap into that." 
"There was no bigger star in the world to associate with the Raptors than Drake," adds Cabbie Richards, a Canadian sports television personality and host of Cabbie Presents on TSN. 
Eric Koreen of Canada's National Post admits he has a tough time taking the partnership seriously. "Why does a professional sports team need a Global Ambassador? Aren't the players the Global Ambassador?" But, he says, it seems to be good for the Raptors' brand. "It makes sense why they would try to associate themselves with a superstar who's from the city and is proud to be from the city and has a history of loving basketball and following the Raptors. It made too much sense for them not to do it." He adds: "I was speaking to DeMar DeRozan the other day and he said something along the lines of, 'When I hear Drake talk about Toronto it just sort of furthers my relationship with the city.' So, it matters to the players a little bit too."
SB Nation senior editor Elena Bergeron can also see how appointing Drake as Global Ambassador could prove beneficial for the Raptors. "I think it makes sense because when you talk about teams and their capacity to recruit free agents, or their buzz factor, that celebrity affiliation can be, in terms of branding the team, as important as the other things that are available to free agents at that city," she explains. To her, celebrity associations also "become cultural things" within franchises. Plus, she says, "having Drake on that team helps establish the fact that Toronto is a cool city."
Leiweke admits that Drake's role as Global Ambassador is loosely defined. The rapper isn't obligated to attend Raptors games exclusively—and doesn't. It isn't his job to woo free agents either—although Leiweke says, "When a player is making a visit and he's a free agent, obviously Masai will rely on Drake at the right time." Instead, Drake and Ujiri define his role on an as-needed basis. "We didn't have a sculpted definition on purpose," Leiweke says. "[Drake] has his own life and his own career. And he always thought the team was better run by Masai than him.
"I think Drake's there where we need him." 
When asked why this is, he simply says it's to ensure that the Raptors and MLSE follow the NBA's anti-tampering rules. "Yeah. We don't tamper. We stay out of that," he says bluntly. It's also why, he adds, Drake isn't paid. 
The NBA's anti-tampering rule is written to apply to both employees and representatives of NBA teams, and is intentionally broad in order to give the league discretion in its enforcement. If Drake, the Raptors' Global Ambassador, isn't considered a "representative," then he's exempt from Article 35A—Misconduct of Persons Other than Players—subsection (f). 
"It's likely that the Raptors structured Drake's role with the team as loosely as possible in order to avoid the league and other teams considering him to be a team representative," explains Jacob Cohen, managing partner at athlete representation firm Ascension Athletes, LLC. But the NBA determined in 2014 that Drake's role as Global Ambassador subjected him to the anti-tampering rule. That August, the Raptors were fined $25,000 after Drake made comments about Oklahoma City's Kevin Durant at his annual OVO Fest concert. 
"Unless anything has changed since that time in terms of the league's policy or Drake's role with the Raptors, the NBA would disagree with the assertion that Drake is not subject to league rules due to his unpaid and loosely-defined role," says Cohen, before adding that the anti-tampering rule is often enforced by virtue of another team lodging a complaint with the league. "While the Commissioner is permitted to commence an anti-tampering investigation at his own discretion, it is more common for the league to wait until a complaint has been filed before conducting an investigation to the issue." 
In an article published on Aug. 12, 2014, The Globe and Mail's Kelly wrote: "The NBA offered to drop the tampering fine if the team agreed to strip Drake of his title. The Raptors apparently refused." He speculated that someone contacted the league, "likely Thunder owner Clayton Bennett." The Thunder declined to comment. 
The following day, the NBA denied asking the Raptors to take away Drake's title. Josh Lewenberg, TSN's Raptors beat reporter, tweeted:
A Raptors representative rebuts any proposition from the league to drop the fine in exchange for the removal of Drake's role. "I never heard that about the NBA and Drake," he says. "Sounds like another unsubstantiated rumor." Kelly, relying on an anonymous source, insists there's some truth to it. "Let's just say I feel very confident that that was correct.
"I wouldn't say that on my own accord."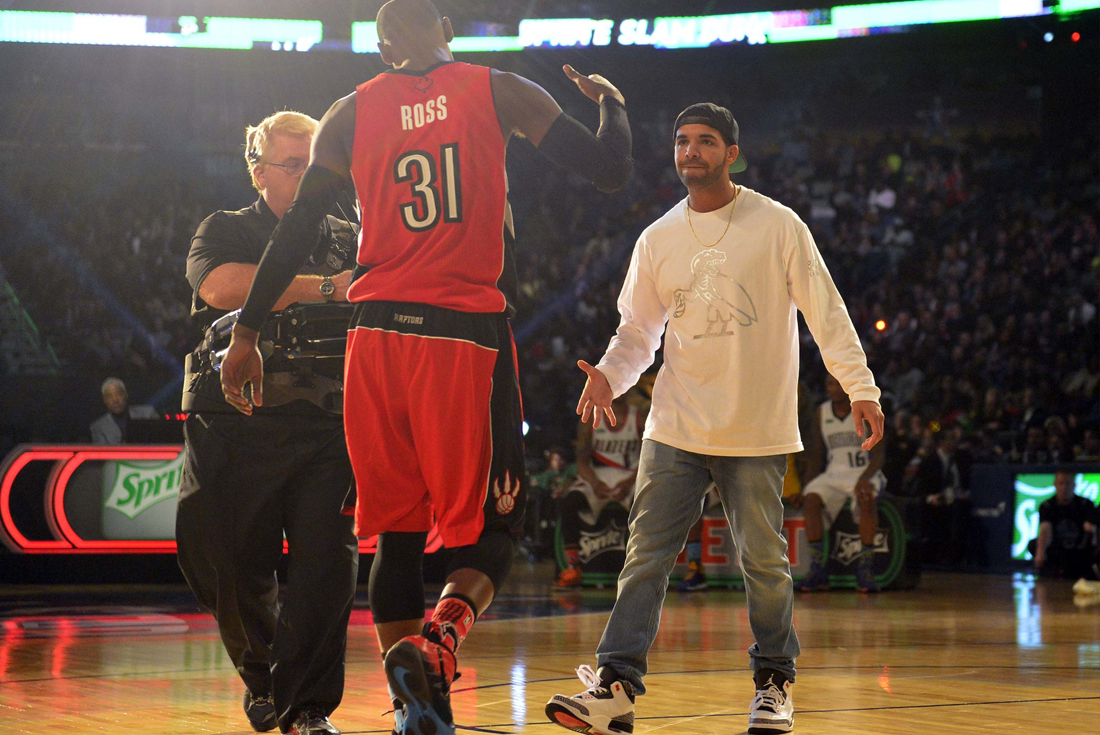 Vaguely-defined responsibilities aside, one task Leiweke will specifically say Drake was brought on to do was help with the team's rebranding—a two-year initiative that coincided with the Raptors' 20th anniversary season in 2014-15. "Early on, [OVO] was part of the rebranding and and how [the rebranding] was gonna look," says Shannon Hosford, MLSE vice president of marketing and communications. 
In late 2013, creative services firm Sid Lee was mandated with the task of redesigning the Raptors logo, jerseys, and redefining the brand identity. For their part, the agency was inspired by the narrative of Canadians and Torontonians being viewed as outsiders, and embracing that—something he thinks applied to the Raptors. This notion influenced the entire makeover: the uniforms, the logo, and what later became a 60-second spot, titled We The North. "We realized we needed to rally people," says Sid Lee co-executive director and partner, and Toronto native, Tom Koukodimos. "It felt like it was time for Toronto, Canadian basketball to step forward and take a stance."  
Drake didn't submit sketches for the final team logo or jerseys, and he didn't provide the voiceover for the video campaign. "It would've been great to have him but we were moving so fast that even scheduling him to do [the narration] would've been impossible," Koukodimos says. But he maintains that the rapper was involved in the pitch process. He remembers meeting Drake, presenting the agency's work to him, and getting his feedback. When Sid Lee didn't connect with him directly, the Raptors and MLSE ran ideas by him as they saw fit. "As a brand ambassador, I think that's important," he says. "The club certainly values his opinion and what he brings to the table."
The rapper was also heavily involved in planning the 2016 All-Star Weekend. "You're going to see us try to add a few elements to the All-Star Game that's never been done, heavily influenced and directed by Drake," Leiweke said back at the press conference held in September 2013. Drake will coach Team Canada in the 2016 All-Star Celebrity Game alongside comedian and actor Kevin Hart, who'll lead Team USA. He'll also release a special Raptors x OVO x Mitchell & Ness collection for All-Star Weekend, as well as host parties and make appearances at various events. He isn't, however, going to perform at the halftime show (the NBA chose singer Sting instead).
"Maybe to a casual fan, Drake simply gets free tickets and talks about the Raptors, but it's way deeper than that," says Jeff Budway, the former MLSE director of merchandise and retail operations who created the clothing collaboration with OVO, the Raptors, and Mitchell & Ness. The clothing collaboration is one of the few areas where Drake is openly compensated in his association with the Raptors, as he and his team submit designs and get a royalty percentage of sales. "He truly cares. For as busy a guy as he is, he wants to be involved and engaged in anything that involves his city and his basketball team." 
And Drake has certainly been involved. In the last two years, he's worked with MLSE on various marketing initiatives, including the annual "Drake Night" to celebrate his partnership, Drake-inspired merchandise (including the lint roller!) to be given during playoff games, the "Drake 416 Zone" seating section in the ACC, the "Hotline Bling" box installed in the arena, and an exclusive sports club called the "Sher Club"—the latter two of which were suggested by the rapper and his team. Drake was also the brain behind the black and gold alternate jerseys, says Hosford, which Drake debuted at his 4th annual OVO Fest concert in Toronto. 
"Drake came to be a part of our brand, our legend," Leiweke maintains. He says the Raptors didn't design anything around the rapper—"the Raptors are the Raptors"—but he acknowledges the impact Drake's had on the ball club. "If you look at We The North, that's a very Drake-ish campaign. If you look at the logo, the uniforms, that's a very Drake-inspired look. If you look at the merchandise and the marketing campaign, again, that's very Drake-ish. Drake helps [the Raptors] look better and I think he's helped us turn the corner and create a brand that's had more success quicker because of his involvement." 
But it isn't only merch or events that Drake's injected into the franchise. In fact, his contributions are more about the intangibles than it is about tangible things like ticket sales, playoff seedings, or win totals. "He just made the Raptors cool. I don't think you can put a dollar figure on that," Richards says, before adding that the fan frenzy has reached fever pitch. "The Vince Carter era was hugely exciting, and that was the only other time I saw this kind of excitement towards the team."
"It's gone to the next level," says Nav Bhatia, the official Raptors Superfan and South Asian Global Ambassador, who's been to every home game since the franchise was founded in 1995. Bhatia, wearing a suede sleeve black and gold varsity jacket from the latest Raptors x OVO x Mitchell & Ness collaboration over a white retro Raptors jersey given to him by Isiah Thomas, the team's executive vice president during its earliest years, in 1998, thinks it's the in-thing right now to be a Raptors fan because of Drake. "Two years ago, when we played Brooklyn, did you see how many people were outside? Ten thousand people. We're all into it right now." 

"Maybe to a casual fan, Drake simply gets free tickets and talks about the Raptors, but it's way deeper than that."
—jeff budway
But how much longer will the hometown kid be an ambassador? How much longer can he?
On Dec. 19, 2014, the Raptors unveiled its new logo—a black and white basketball with a claw mark and the team's name in white, block lettering above and below the basketball on a black background with a white border. Many felt that the new symbol looked suspiciously like that of the team's rival, the Brooklyn Nets. "Looks familiar," the Nets tweeted. The Raptors later posted a color image to the team's Facebook page, which was then taken down and swapped with a black-and-white image. Then, later in the day, they released a variety of logos in different color schemes. The following day, Drake addressed the logo. Kelly tweeted: "The Drake-inspired Raptors design. Could've been worse. Also could've been a whole lot better." Drake, who rarely tweets, responded directly to Kelly: "Actually this redesign was executed without me. My collaboration with Mitchell & Ness comes out next season." 
According to one of Kelly's reports published days after the logo unveiling, a source within MLSE said that Drake was unhappy about the "execution" and the color scheme. "By that, he apparently means the way in which the images were released," Kelly wrote, later adding that Drake "had pushed hard for the team to make a holistic switch to black-and-gold. Instead, the Raptors are sticking with their current palette: red-black-white-silver. Drake was part of all these discussions. He just didn't get his way." 
The Toronto Star's Doug Smith, who's been covering the Raptors since 1995, acknowledged a possible rift between the ball club and the rapper as well. In an article published Dec. 22, 2014, Smith called attention to Drake's response to Kelly's tweet. "I call Bull Poop on that, pure and simple," he wrote. "Maybe the Global Ambassador's ticked [off] that there is some minor amounts of red in the logo and some silver and that it's not just black and gold. Maybe he's heard that the uniforms are going to be white at home, primarily red on the road, black as a third with a couple of nights of gold. Maybe he doesn't like the fact that the Raptors got the We The North and this new look from the design firm of Sid Lee and not the company he's collaborating with. Something smells here."
Smith reported nearly exactly a year earlier that MLSE was seriously considering changing the club's colors to black and gold. Similarly, during an interview with The Lowe Post in December 2015, Raptors point guard Kyle Lowry told host Zach Lowe that the franchise intended to change the color scheme. "We [were] supposed to change everything. We [were] supposed to go to black and gold everything," he said. But, according to Lowry, fellow All-Star DeRozan didn't agree with the switch. "He didn't want to do that because he's been here with the red and the white—and they're Canadian colors. Listen, our colors are red and white. This is what it is. Let's leave it how it is. We're Canada's team." 
"[Changing to black and gold] was one of the many considerations," says Hosford. "But with input from our players, they felt strongly about our primary being red. We listened to them." According to her, players preferred the red-white-black colorway because they were Canadian colors. 
Kelly thinks that the rollout was a "disaster" and that Drake was, understandably, frustrated. "My understanding is what Drake was told as part of the global ambassadorship is that he could redesign the uniforms—he himself. They told him he could do one thing and, in the end, they told him, 'Yeah, we're just not gonna do what you did' and they botched the rollout. So I think that was a moment of crisis in that relationship," explains Kelly, who says Leiweke's departure from MLSE could also be why Drake has peeled back from the team a bit. Kelly doesn't believe the Raptors and Drake are at each other's throats but, he adds, "I would suggest that [Drake] has a lesser presence around that team now." He hasn't seen Drake at games as often this year (though he acknowledges the rapper is working on his upcoming album, Views From the 6) and says he hasn't been promoting the team as much on social media. "That love affair seems to be fizzling a bit." 
Koreen says he's heard whispers about the clumsy unveiling of the logo and uniform, and that Drake wasn't pleased with it. "There's probably a bit of tension, from everything I can tell, but I'm not sure what broke the relationship."
Hosford insists there isn't any strife between the Raptors and Drake. "He has a deep affiliation here," she says. "We don't keep notice of the games he comes to. He's always welcome when he's here but he has a busy music schedule. We're fortunate enough for him to spend the time and cheer on his team when he has the chance. I'd definitely be surprised if after this weekend he's no longer associated with the Raptors."
Drake declined to comment. But during a pre-game press conference before his second "Drake Night" back in December 2014, the rapper spoke of his allegiance to the Raptors—despite Leiweke's then-looming departure. "I've been in this city for 28 years, so, all respect to Tim, but with or without Tim, my focus has always been about Toronto and about the Raptors," he said. "It hasn't been about who is here…My goal is to stay with the Raptors as long as they'll have me. I'm not looking to really monetize or capitalize on my involvement. I'm just really strictly here for the support." 
This weekend, the 2016 All-Star Game will come to Toronto, and Drake will, without a doubt, put on for his city. But what's next for The Six God? Will he continue on as the Raptors' Global Ambassador? Will he follow in Jay Z's footsteps and own a stake in the franchise? Or will he drop it all and focus on his music? 
On Jan. 28, 2016, the Raptors hosted "Black and Gold Night" against the Knicks. Drake wasn't sitting courtside, but his presence was inescapable. An hour before tip-off, the Real Sports Apparel store at the ACC was flooded with fans in their black and gold Raptors jerseys, T-shirts, hats, et. al. Inside the stadium, the house DJ played a Drake mix that includes songs like "Headlines," "Worst Behavior," and Lil' Wayne's "Right Above It". Later, the players and Raptors Dance Pak walked onto the court decked out in their respective black and gold uniforms. During the game, a snippet of Drake roaring "charged up" blasts through the speakers when a Raptors player scores. 
It's hard to imagine that all of this could disappear in a blink of an eye. Drake has helped ignite what used to be a struggling NBA franchise and, as a result, resurrected Raptor Mania. Fans at the game said they'll still support the Raptors even without Drake, but you get the sense it might sting a little if he leaves. "He put the Toronto Raptors on the map," one fan said. 
Added another: "He means a lot to the Raptors. He's an icon to the city."
On Jan. 30, Drake attended a home game against the Detroit Pistons. The rapper, wearing a fiery red half-zip sweater with "OVO" in white lettering on the front over a black tee, sat in between Raptors announcers Matt Devlin and Leo Rautins. When not being asked questions about the All-Star Game and "Summer Sixteen," the new song he released that evening, he traded play-by-play calls with Devlin and Rautins. At one point, he cut off Rautin, who was giving his analysis of Lowry. "It's funny, when you put this headset on basketball lingo just starts flowing," says Drake. The pitch of his voice gets higher. 
"I'm telling you—I could get used to this, man."