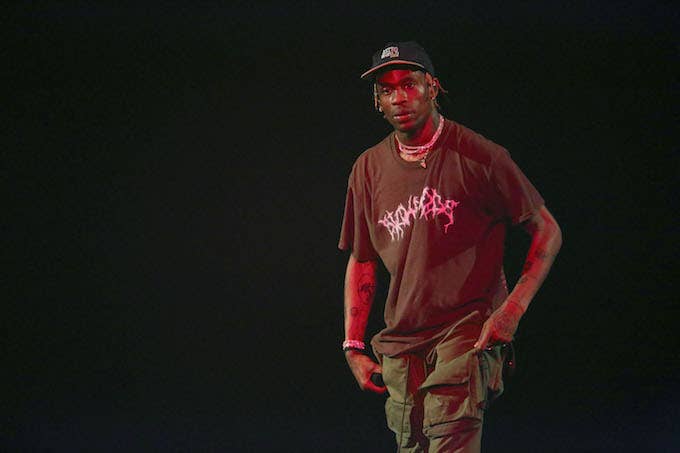 Travis Scott agreed to perform during the Super Bowl LIII halftime show, but with one stipulation: the NFL would join Scott in donating to a social justice cause, Billboard reports.
Scott's involvement in the halftime show was confirmed in December. According to Billboard, a source has revealed that the donation was required for Scott to move forward with the show.
Together, Scott and the NFL are set to donate half a million dollars to Dream Corps, among other charitable endeavors that Scott and the NFL will work on together. According to Dream Corps' website, the nonprofit is "a social justice accelerator," which backs "initiatives that close prison doors and open doors of opportunity for all." The donation arrives after the Friday launch of the NFL's "Inspire Change" initiative.
On Sunday, Maroon 5 revealed the full lineup via social media, which includes the Adam Levine-led band, Scott, and Big Boi. The video shows clips of performances from all three acts, with a quick reference to Spongebob Squarepants and the Super Bowl petition that received one million signatures in December.
Scott's decision to perform has been controversial. JAY-Z and Reverend Al Sharpton have both admonished Scott for his involvement. Roc Nation's Lawrence Parker implied that it was Jay that pushed for the charitable donation on Twitter.
Sharpton told TMZ back in December, "I think anyone that goes into the halftime show is in effect directly violating those that want to raise the question that the NFL should come to terms with what they have done and continue to do to Colin Kaepernick and those that protest on criminal justice issues."
Meek Mill also weighed in on Scott's reported Super Bowl performance, insisting he is cool with the rapper but didn't understand why he would accept the gig.
A few other artists reportedly turn down the offer to show their support for Kaepernick, including Rihanna, Hov, and Cardi B.