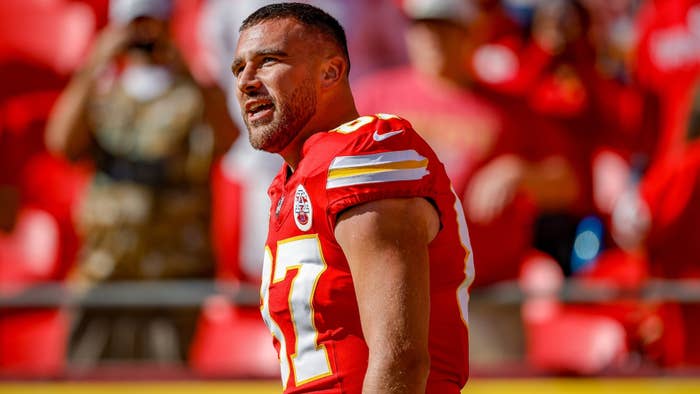 UPDATED 11/24/23, 12:18 p.m. ET: Travis Kelce caught wind of his old tweets going viral, sharing on his New Heights podcast that he treated the platform as "a diary."
"What's hilarious is nobody followed me back then," he told his brother and co-host, Jason Kelce. "I'm just out here just saying nonsense."
He continued, "Nobody torched me for the singing. [on Jason's 'A Philly Special Christmas' album], I got my fix for this one. I was getting lit up left and right."
Kelce recently appeared on the cover of the Wall Street Journal magazine where he discussed his relationship with Taylor Swift.
"I've never dealt with it," Kelce said about the heightened attention surrounding his romance. "But at the same time, I'm not running away from any of it...The scrutiny she gets, how much she has a magnifying glass on her, every single day, paparazzi outside her house, outside every restaurant she goes to, after every flight she gets off, and she's just living, enjoying life. When she acts like that I better not be the one acting all strange."
See original story below.
Fans are finding Travis Kelce's old tweets to be delightful.
Some of the Kansas City Chief player's Twitter thoughts from over a decade ago are now going viral—and fans are eating it up. In some of his more wholesome tweets, the 34-year-old reflects on his phone dying, is excited about "goat-racing" (it seems he meant go-kart racing), feels pensive about the moon and his successes, and is hype when a "squirrle" ate a piece of bread (yeah, spelling isn't a strong suit).
He's also a fan of Chipotle, which he often spells "chipolte"—and is enthusiastic about Olive Garden, proving he's a simple man with simple pleasures.
But it seems he has some depth too, as one X user pointed out.
However, it's not all silly fun. It appears he could also be quite critical, commenting on "ugly cheerleaders" and saying that he "caught [himself] judging everyone that walked past me" regardless of how they looked—messages he later deleted.
Still, some people noted that Kelce and Taylor Swift were made for each other, based on her lyrics and his tweets.
All in all, it seems Kelce used Twitter as most people in the late aughts and early 2010's did: sharing whatever was on his mind, at that moment.