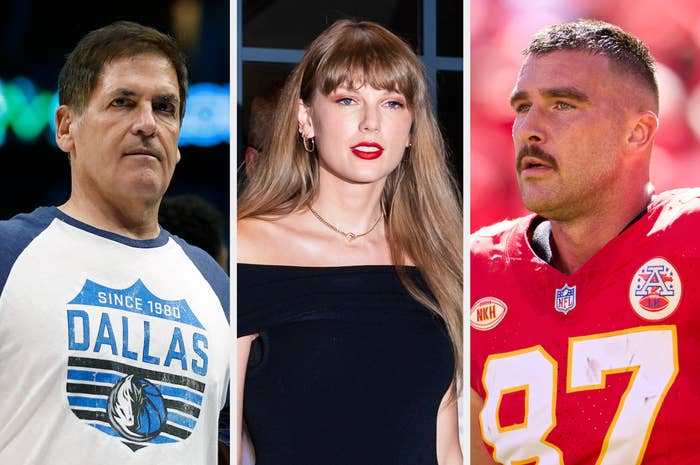 Mark Cuban has his eye on Taylor Swift—for his Dallas Mavericks players.
In an appearance on Stephen A. Smith's show, First Take, Cuban pitched Swift: "Taylor, if you're listening—sorry Travis [Kelce]—break up with him. I got a bunch of good-looking single guys that play for the Dallas Mavericks. I got you, I got you."
Swift and Kelce's rumored relationship is all anyone's talking about, especially after the singer was seen at his Kansas City Chiefs game against the Chicago Bears this weekend. Now, their supposed budding romance has also spawned a viral TikTok trend, where users set up the joke by asking football fans—be it a partner, husband, boyfriend, father, brother—a simple question: "Can you believe Taylor Swift has made Travis Kelce famous?"
Check out some of the reactions below.
Swift and Kelce were first romantically linked earlier this month when they reportedly started "quietly hanging out." Then, last week, Kelce addressed the rumors on the The Pat McAfee Show.
"I threw the ball in her court," he said. "I told her I've seen you rock the stage in Arrowhead [Stadium], you might have to come see me rock the stage in Arrowhead and see which one's a little more lit. So, we'll see what happens in the near future."
Swift did so just a few days later. Kelce later spoke on her attending his game, telling New Heights that it was "pretty ballsy" of her to show up.