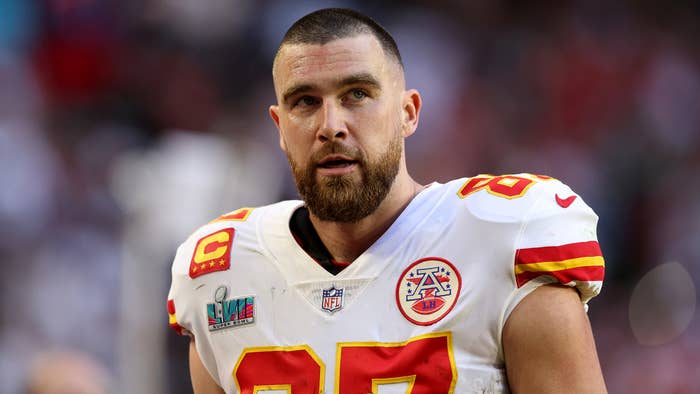 Travis Kelce has addressed those rumors he's been "hanging out" with Taylor Swift.
In an appearance on The Pat McAfee Show, the 33-year-old Kansas City Chiefs star was asked about how it feels to see the potential romance talked about so much. "It's hilarious how much traction this has actually gotten, right now it's like a game of telephone," he shared, per E! News. "No one actually knows what's going on, especially when you got Jason Kelce on live television telling people both sides—he doesn't know, it's true, this and that."
McAfee asked if he "hates" the attention regarding the rumors, but Kelce indicated that he was fine with it. "No, I mean it's life, baby," he replied. "I threw it out there, I threw the ball in her court. I told her, you know, I've seen you rock the stage in Arrowhead [Stadium], you might have to come see me rock the stage in Arrowhead and see which one's a little more lit. So, we'll see what happens in the near future."
On Wednesday, Sept. 20, The Messenger reported that Swift and Kelce have "hung out twice," but right now it's "nothing serious." However, the source added that the superstar finds him "very charming," and they've been texting.
The rumors started after Kelce and his brother spoke about attending a Taylor Swift show on her Eras Tour, in which he admitted he gave her a friendship bracelet with his phone number on it. "I was disappointed that she doesn't talk before or after her shows because she has to save her voice for the 44 songs that she sings," he told his brother on a July episode of the New Heights podcast.
"So I was a little butt-hurt I didn't get to hand her one of the bracelets I made for her," he said. When he talked about including his number on the bracelet, his brother jokingly asked, "Your number as in 87 or your phone number?" He responded, "You know which one."
Rumors and reports began to circulate not long after that the two had been "hanging out." His brother later appeared on the DeCamara & Ritchie show on Audacy's SportsRadio 94 WIP, where he was asked about the rumors. "It's hard to answer because I don't really know a lot about what's happening with Travis' love life," he said. "I try to keep his business kind of his business, and stay out of that world. But having said that, man, I think he's doing great and I think it's all 100 percent true." He seemingly indicated after that he was joking, however.