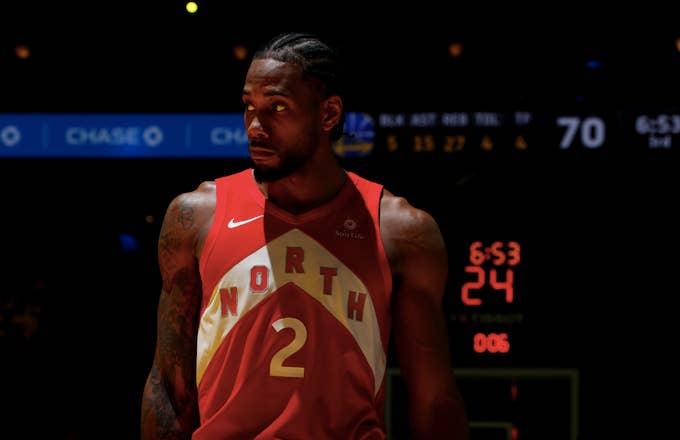 While the Lakers tried to secure a commitment from Kawhi Leonard, the 28-year-old All-Star was ramping up his recruit efforts for Paul George.
In between his meetings with the Clippers and Raptors, Leonard reportedly met with Lakers owner Jeanie Buss and GM Rob Pelinka on Tuesday at the Four Seasons Hotel in Westlake Village. The meeting was initially set to take place at the Lakers' practice facility in El Segundo, about 40 miles away from Westlake Village; however, sources say Leonard requested the switch just hours before the sit-down. Why? Well, according to ESPN's Ramona Shelburne, "it appears" George had something to do with it.
The Lakers couldn't have traded for George if they wanted to. They had emptied their cupboard in trading for [Anthony] Davis and had nothing left to give. According to a person familiar with their thinking, they had no idea that the Clippers and Raptors were attempting to trade for George to give Leonard his desired teammate.
As we now know, the Clippers were able to give Leonard exactly what he wanted. The team acquired George from the Thunder in exchange for Shai Gilgeous-Alexander and Danilo Gallinari, as well as four unprotected first round picks. A steep price, no doubt; but according to ESPN's Adrian Wojnarowski, the trade helped the Clippers lock down a four-year, $141 million deal with Leonard.