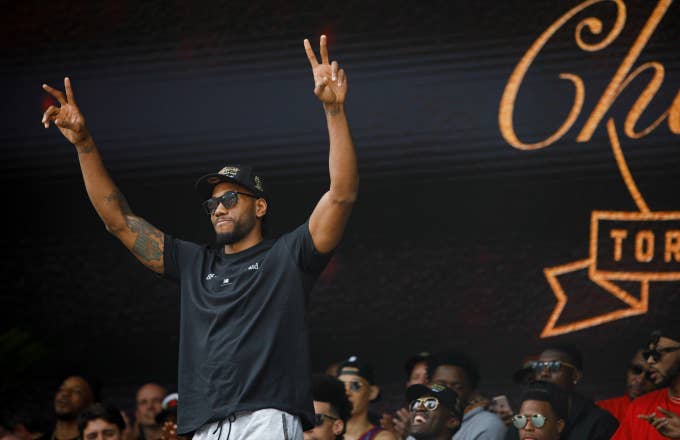 ESPN's Adrian Wojnarowski is known for dropping bombs regarding trades and other inside information, but on Wednesday's episode of Get Up, Woj issued a warning. 
While he's made his career on being privy to the inner-workings of the NBA, Woj admitted to the show's cast that he knows little about the meetings and presentations Kawhi Leonard has had with interested teams. Yet, he insists this isn't due to a lack of effort. Like his public persona, Woj claims that Leonard has told teams to keep their pitches under wraps and if the nature of their conversations hit the public, it is highly unlikely he'll sign to them.
"Teams have simply been told this: If information on your presentation gets out, you're really imperiling your chance of signing Kawhi Leonard," Woj explained. "You understand why teams are keeping this so private. His camp has not allowed that information to really get out."
If Woj is right (and he's rarely wrong) this could mean bad news for two of the three final teams. Prior to the start of free agency, Magic Johnson revealed that Kawhi requested to meet with him and Lakers' owner, Jeanie Buss. He then went on to disclose what was said during the meeting.
As for the incumbent Toronto Raptors, they too messed up—just not as bad. Although they didn't go into detail, it was revealed that global ambassador, Drake, would be putting together his own recruitment campaign in addition to the team's pitch. While there is no excuse for these unforced errors, it should be noted that neither Drake's plan nor Kawhi's conversation with Magic were a part of either organizations' official pitch. With these still under wraps, this could be the teams' saving grace as Kawhi is expected to make his decision before the weekend is over. 
In addition to the Lakers and the Raptors, it has been reported that Kawhi is meeting with the Los Angeles Clippers.