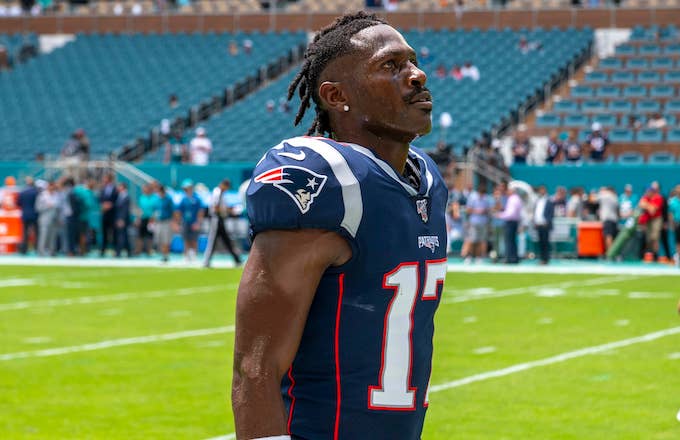 UPDATED 1/25, 9:15 a.m. ET: Antonio Brown has been released from jail after posting bond. The bond was $110,000​​​​​​​, ESPN reports.
Brown was hit with three charges. There's felony burglary with battery​​​​​​​, burglary of an unoccupied conveyance​​​​​​​, and criminal mischief less than $1,000​​​​​​​.
"They overcharged him," Brown's attorney Lorne Berkeley said, per ESPN. "Once a thorough investigation is done, we believe the charges filed will most likely be very different than they are right now." Brown is facing up to life in prison due to the felony burglary with battery​​​​​​​ charge  
"I don't think there's any mental health issues with him. Antonio Brown's life right now is a reality show," Eric Schwartzreich​​​​​​​, one of Brown's attorneys, said of the judge's decision​​​​​​​ to order the free agent to undergo a mental health evaluation. "He is misinterpreted and misunderstood. He's not guilty of these charges. He did not commit a felony battery. In this case, when all the facts come out, you will see he will be vindicated and he will be found not guilty."
UPDATED 1/24, 9:30 a.m. ET: Antonio Brown appeared before a judge on Friday morning and was granted $100K bond, TMZ reports.
JUST NOW: Antonio Brown, wearing an anti-suicide smock, made his first court appearance.

His bond was set at $100,000 for the burglary with battery charge.

The judge ordered Brown to wear a GPS monitor, surrender his passport, and undergo a mental health evaluation.

pic.twitter.com/IdCkH8jlcG
Although he'll be able to leave jail, Brown must wear a GPS monitor, surrender his passport, get rid of his guns, and can't contact the alleged victim. Brown was also ordered to undergo a mental health evaluation within 10 days of his release from jail.
Antonio Brown's lawyers say he was "overcharged" & they believe when they return to court again the charges will be very different. He's currently facing a potential life felony on the burglary with battery charge. It's a very serious charge and they expect a lengthy process.
UPDATED 1/23, 10:54 p.m. ET: Antonio Brown has reportedly turned himself in to Broward County authorities.
According to CBS Miami's Carey Codd, the NFL free agent surrendered at around 10 p.m. ET Wednesday, one day after authorities issued a warrant for his arrest. Brown's entourage and attorney reportedly accompanied him to the county jail.
See original story below. 
UPDATED 1/23, 3:20 p.m. ET: TMZ Sports obatined the 911 call made by the moving truck driver after he was allegedly attacked by Antonio Brown. 
"The guy is high, he smoked, he threatened me. He's trying to fight, he throws stones at my truck," the driver says in the call. "I'm trying to make delivery to the gentleman. I called him and told him he has to pay the balance."
The driver adds that Brown "refused to pay" that balance. 

See original story below. 
Florida authorities have issued an arrest warrant for Antonio Brown.
Radio talk show host Andy Slater first confirmed the news Wednesday night, a day after Brown was accused of attacking a man in South Florida. Brown is reportedly facing charges of battery with burglary, while no bond has been set. 
According to TMZ, officers are urged to "use caution when approaching Brown, as he is known for being confrontational when dealing with police." The warrant also points out that the 31-year-old has a concealed weapons permit "and is known to carry."
The NFL free agent is wanted in connection to a Tuesday incident at his Hollywood, Florida home. According to court documents obtained by TMZ, Brown and his trainer, Glen Holt, are accused of assaulting a moving truck driver who was hired to drop off Brown's belongings at his Florida residence. The driver claims Brown initially refused to pay the $4,000 fee, so he got back into the truck and began driving away with the athlete's property; however, the man told authorities that as he attempted to leave, Brown threw a rock at the vehicle, causing a dent and chip on the side door.
The moving company reportedly contacted the driver shortly after, and informed him Brown was willing to pay the $4,000 as well as an additional $860 to cover the damages and extra work. The driver said he returned to Brown's home to deliver the items and collect the money, but Brown allegedly refused to cough up the extra dough, which ignited another argument. The man told officers that Brown eventually made his way into the truck and began striking him before Brown's associates intervened. At some point during the the attack, Holt allegedly took the keys out of the truck's ignition and opened the back to unload Brown's belongings. 
Police arrived at the scene shortly after and arrested Holt for burglary with battery. Brown reportedly retreated inside his home, and refused officers' requests to go outside. 
Stay tuned as more information becomes available.