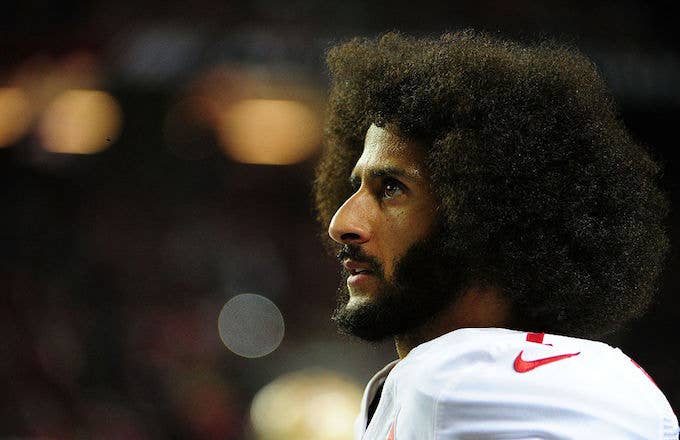 Though he's still out of a job, Colin Kaepernick is making good on his promise to donate $1 million to charities that support racial equality.
On Wednesday, ESPN reporter Darren Rovell revealed the free agent quarterback had recently contributed $34,000 to J. Cole's Dreamville Foundation, a nonprofit organization that benefits urban youth. The money will reportedly fund upcoming projects that will be announced within the coming weeks. Kaepernick's latest donation brings his total to $800,000 so far.
The news was announced just weeks after J. Cole reiterated his support for Kaepernick during the Baltimore stop of his 4 Your Eyez Only Tour. The rapper commended the athlete for risking his career for something as important as social justice. J. Cole also suggested the Ravens are refusing to sign Kaepernick because of political reasons.
"Matter of fact, don't y'all think that someone that got money, power and fame should be standing up for them type of shit?" Cole asked the audience. "Baltimore, the shit that's happening here, don't you think that somebody should risk their whole livelihood and their whole life to talk about this shit? Even if it cost them their money, their job, their life? Don't that sound like Colin Kaepernick? Don't that sound like what he doing? And he trying to come to Baltimore, the city that seems to need that shit for real."
In 2016, Kaepernick made headlines after he refused to stand for the national anthem during a pre-season game. He later told reporters he didn't want to show pride in a country that continues to oppress black people and other racial minorities. Though some criticized his stance, many applauded his bravery, including his fellow NFL players, sports fans, celebrities, and members of the Black Lives Matter Movement.