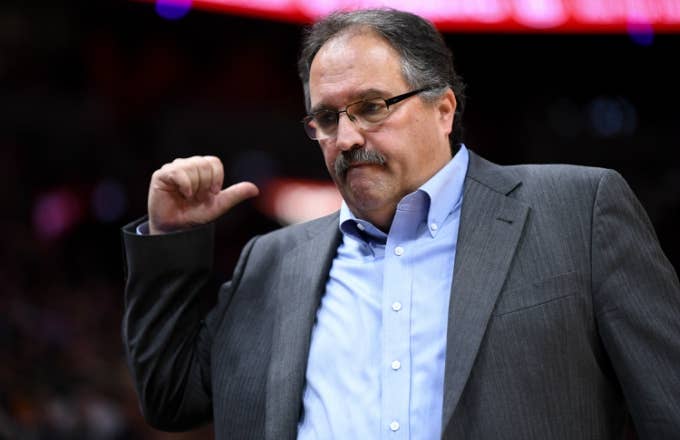 LaVar Ball didn't let about 6,000 miles of distance stop him from taking a few shots at Lakers head coach Luke Walton during an ESPN interview that took place in Lithuania over the weekend. When asked about the Lakers' recent nine-game losing streak, Lonzo Ball's dad suggested Walton had lost control of his team.
"You can see they're not playing for Luke no more," LaVar said. "Luke doesn't have control of the team no more. They don't want to play for him."
Most people chalked LaVar's comments up to LaVar just being LaVar, but there were a few NBA coaches who saw them as being problematic. And those coaches didn't put all of the blame on LaVar for what he said. Instead, they came out and said that ESPN should be held accountable for sticking a microphone in LaVar's face every chance they get in order to try and entice him to say something they can then stick on the ESPN.com homepage.
Mavericks coach Rick Carlisle was the first coach to blast ESPN over the way they cover LaVar. Carlisle, who is the president of the NBA Coaches Association, went to bat for Walton by calling ESPN's LaVar coverage a "disgrace." He said it "erodes trust" between ESPN and the NBA and questioned the way ESPN is conducting business as far as LaVar is concerned.
Warriors coach Steve Kerr echoed many of those same sentiments when he spoke with the media on Monday. While he didn't necessarily go as far as to put all of the blame on ESPN, he said LaVar has become "the Kardashian of the NBA" and pointed out that ESPN is spending a lot of its valuable resources chasing LaVar down for quotes. "It's a societal issue," Kerr said. "It's been going on for many, many years, and it's really, I think, invading the sports world now."
On Monday, Pistons coach Stan Van Gundy was also asked about LaVar, and he said that he doesn't actually have any issues with LaVar or the things he says. What he does have an issue with, though, is ESPN showing "total disrespect" to Walton by taking LaVar's recent comments about him and turning them into a story. Van Gundy then took things a step further than Carlisle and Kerr by contacting the NBA Players Association and NBA Commissioner Adam Silver and telling them that he won't be participating in any meetings with ESPN or ESPN employees before, during, or after the Pistons' nationally-televised game against the Wizards on Jan. 19.
"I'm not meeting with their announcing crew before the game," Van Gundy said. "I'm not doing the in-game interview. I'm not going to participate in the thing."
Van Gundy also clarified what he said to the NBAPA and Silver when asked about it on Tuesday.
"I'm not denying [ESPN] access. I'm not kicking them out of press conferences," he said, according to the Detroit Free Press. "They want extra stuff from us, and they're going to treat an NBA coach with that little respect? Then I'm going to choose not to give them extra access."
This is a bizarre new twist in all of the LaVar hoopla. While it's not the first time people have complained about the way ESPN has covered LaVar, the fact that an NBA coach is openly saying that he won't cooperate with one of the NBA's biggest partners because of the way they cover LaVar is kind of crazy. And it'll be interesting to see if it affects the way ESPN covers LaVar moving forward.