Lonzo Ball made his long-awaited debut for the Lakers on Thursday night. But if you woke up and checked ESPN.com on Friday morning to see how he did, you may have been surprised to find that there was no mention of Lonzo's name anywhere on the ESPN homepage.
But there was another Ball featured prominently on the site—Lonzo's dad LaVar—and by the middle of the morning, he had worked his way up the list of ESPN's "Top Headlines" and eventually landed in the first slot on it, ahead of seemingly more important and more newsworthy stories about the Dodgers clinching a World Series berth, Marshawn Lynch getting ejected from a game against the Chiefs for putting his hands on an official, and Carmelo Anthony making his debut for the Thunder.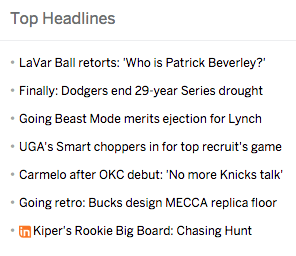 LaVar was able to outrank those stories on ESPN.com—and outrank a story about his son's first NBA game—as a result of some comments that he made about Clippers guard Patrick Beverley. Beverley was able to shut Lonzo down during his Lakers' debut, holding him to just 3 points, 9 rebounds, and 4 assists during the Clippers' 108-92 win. He also talked a lot of trash to Lonzo throughout the course of the game, and when it was over, he reportedly yelled a bunch of expletives in reference to Lonzo while making his way back to the Clippers' locker room.
Lonzo took the high road when he was asked about Beverley's performance against him on Thursday night, but his dad didn't. LaVar spoke with ESPN after the game, and rather than simply giving Beverley a tip of the cap and saying that Lonzo would get him next time, LaVar went off on Beverley and sent a whole bunch of shots in his direction.
"Yeah, you shut the motherfucker down," LaVar said. "And your check still ain't going to go no higher than what it is. Yeah, you shut him down. OK… Who is Patrick Beverley? He played all last year and nobody said nothing about him. Now we are looking at your first game. Why? Because Lonzo's name is attached to it. So you got to be [all hard]. Let's see what you do the next five games, if you are going to be pumped up towards everybody like that and go back to your 0-for-5 shooting and your two or three rebounds. Nobody is going to care about you. But you put my son's name in it and you put my name in it, now you got some action and you got some people talking."
LaVar also accused Beverly of attempting to get his attention while the game was going on, and for some reason, he felt the need to remind Beverley that he doesn't have his own sneaker like Lonzo does.
"I saw the way he looked at me when he was on the side of the bench," LaVar said. "He was going to see if I can get eye contact. I just looked at him like I looked right past him because he's nobody. You talking to Big Baller. One game. OK, you still don't have your own shoe, you are still not your own boss. I know why you are looking at me. And you want to tell me that I got your son! Well, I got two more you can try to get some of, too. They will be here, don't worry about it. I don't worry about one game."
Additionally, LaVar made an appearance on ESPN's SportsCenter late Thursday alongside Stephen A. Smith and defended his son's debut. It led to a heated back-and-forth between the two, who have had their fair share of animated discussions.
"Lonzo did good." - LaVar Ball

"WHAT GAME WERE YOU WATCHING!" - Stephen A. Smithhttps://t.co/SQoVr8VKnl pic.twitter.com/jV91qxailk

— David Astramskas (@redapples) October 20, 2017
All of those things combined—Lonzo's struggles, Beverley's trash talk, and LaVar's reaction to it all—made for the perfect storm. It sent LaVar's name, rather than Lonzo's, to the top of ESPN.com's "Top Headlines" list and had LaVar trending on Twitter for most of Friday morning.
It was a strange situation, because while it's certainly not out of the ordinary to see LaVar trending for saying or doing something outlandish, the general belief was that once Lonzo started actually taking part in games, it would be him making the headlines as opposed to his dad. After all, he is the story, right? He is the one who is playing in the NBA and trying to lead the Lakers back to prominence, not his father. So most people assumed he would steal the spotlight back from LaVar once the 2017-18 NBA season tipped off.
In time, that will likely be the case. But in this instance, ESPN chose to lead their Lonzo coverage with LaVar, and there were a lot of people who weren't happy about it. Once they realized how much time and energy ESPN was putting into covering LaVar and his comments about Beverley, they used social media to ask the network to stop giving LaVar a platform to talk, especially since, they said, it's Lonzo who ESPN should be focused on. You'll find hundreds of tweets like this on Twitter:
This is, of course, not necessarily a new reaction to ESPN's ongoing coverage of LaVar. In 2017, LaVar has become a fixture on the ESPN.com homepage—and frankly, on the homepages of many prominent sports sites—so you can find plenty of examples of people pleading for the media to stop covering LaVar from over the last few months.
There have even been a number of ESPN employees who have come out and publicly called for the network to stop covering LaVar.
But in case you haven't noticed, ESPN has refused to listen, and if you're still holding out hope for them to suddenly stop covering LaVar, you should quit now. It's not going to happen.
The reason for it is, on the most basic level, very simple: LaVar, whether you love what he's all about or you can't stand him, continues to generate ratings and clicks for those in charge of creating content on TV and online, including those at ESPN.
Over the course of the last six months, ESPN's own Darren Rovell—who, it should be noted, has maintained close ties to LaVar and covered him extensively for ESPN, especially as it pertains to Big Baller Brand—has repeatedly defended ESPN's coverage of LaVar. Whenever Rovell mentions LaVar on Twitter, he is typically bombarded with anti-LaVar tweets, and his response to those who disagree with ESPN covering LaVar is almost always the same. Without delving into specific numbers, he points out that stories related to LaVar are among some of the most-read stories on ESPN.com this year.
Rovell has often placed LaVar into the same category as Tim Tebow as far as public interest is concerned. Although they have generated very different kinds of headlines, Rovell once said that he believes LaVar and Tebow strike similar chords whenever they are covered by the media, which is why they get such strong responses when stories about them are published.
Others have agreed with Rovell's general assessment about the overall interest in LaVar. Back in early August, Sports Illustrated reporter Richard Deitsch—who once vouched for the idea of LaVar landing a spot on one of the sports networks' daily talk shows—said that, in his opinion, the supposed media fatigue surrounding LaVar coverage wasn't going to stop ESPN or any other outlet from covering LaVar in the foreseeable future. He correctly predicted there would be even more LaVar coverage to come.
Deitsch's tweet sparked an interesting discussion between him and SportsCenter anchor Scott Van Pelt, who has vowed not to entertain LaVar's various antics on his late-night show regardless of the interest that exists in him on other ESPN properties. Deitsch warned Van Pelt that he wouldn't be able to ignore LaVar for long, while Van Pelt maintained that he would stick to covering Lonzo, not LaVar, since he should be "the story."
The conversation is particularly interesting now in light of the most recent ESPN coverage involving LaVar. Because while Van Pelt, some of his ESPN colleagues, and those who watch ESPN and read ESPN.com might not think that LaVar deserves it, there's no denying that LaVar has managed to turn himself into "the story," which could force Van Pelt to reconsider his position on covering him.
And as we move forward, that could ultimately end up trumping ratings and clicks and become the top reason ESPN and other sports outlets cover LaVar.
Back in June, Kings rookie De'Aaron Fox revealed that one of the reasons he had such a good game against Lonzo Ball during the NCAA Tournament was because he wanted to "shut LaVar Ball up." Beverley essentially said the same thing on Twitter in September when he offered up a preview of what was to come when he played against Lonzo—and tagged LaVar in his tweet.
In both of those instances, players appeared to pit themselves against LaVar instead of Lonzo, even though it was Lonzo they would be playing against. And that won't be the last time it happens. If you believe what Beverley said after playing against Lonzo on Thursday night, every NBA point guard is going to be gunning for Lonzo this season, and it's not necessarily because they want to show up Lonzo. It's because they want to show up LaVar.
With that in mind, if you're ESPN, how can you not drag LaVar into Lonzo's narrative and, in some cases, make him the central figure in it? This is no longer just LaVar spouting off about how he could beat Michael Jordan or ripping Shaq for writing a diss song about him. This is now NBA players talking openly about targeting Lonzo on the court because of his father and potentially even trying to engage LaVar during games. That's going to make LaVar an even bigger deal than he already was before—and it's going to force ESPN and other sports outlets to continue to make LaVar a part of their stories, whether you like it or not.