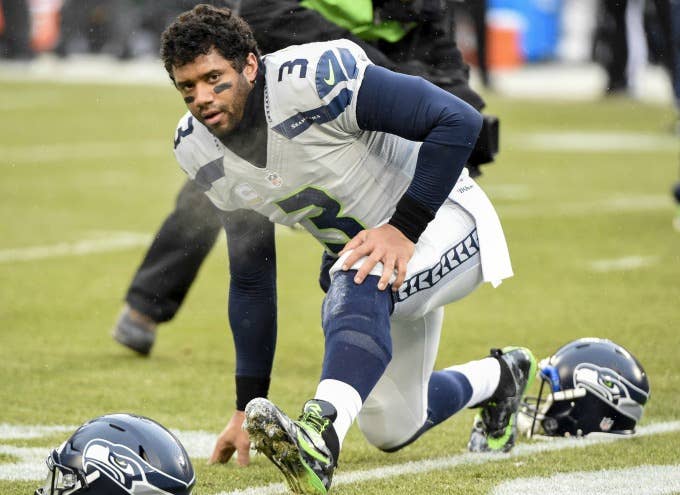 If you want to stop Russell Wilson on the football field, you could come up with a really solid defensive scheme and execute it to perfection. Or you could save yourself the trouble of doing all that and just bump a bunch of Future songs and watch him self-destruct. There's no way Wilson can play elite-level football when Ciara's ex is playing over the stadium speakers during every timeout, right?
Okay, okay, so maybe it's not that easy. At this point, Wilson has probably seen and heard enough Future jokes to last him a entire lifetime. The guy can't sign onto his social media accounts without someone throwing a Future jab in his direction.
But prior to last season's Seahawks/Panthers playoff game in North Carolina, the Panthers' official team DJ, DJ Vinny, proved that there might be something to trying to throw Wilson off his game by playing Future. DJ Vinny kept the Future songs coming while Seattle and Carolina warmed up for their game, and whether Wilson heard them or not, he got off to one of the worst starts of his career once the game kicked off. The Seahawks fell behind 31-0 at halftime before eventually losing 31-24.
With that game still firmly entrenched in our minds, we fully expected the Falcons to employ a similar strategy on Saturday when the Seahawks visit Atlanta for a divisional playoff round game. After all, Future is from ATL and Future songs have become a fixture at Falcons games in recent seasons anyway, so why not have the Falcons DJ play a few extra Future tracks to try and get under Wilson's skin? It certainly couldn't hurt.
Falcons head coach Dan Quinn shot the suggestion down on Tuesday morning, though, when former NFL player Hugh Douglas—who is now a radio broadcaster with 92.9 The Game in Atlanta—asked him if the team is planning to request Future songs from their DJ to annoy Wilson. Quinn said his team will "absolutely not" use that as part of their game plan.
But it seems as though the Falcons official DJ, DJ Jay Envy, might have other things in mind. On Sunday, Jay Envy shared a message he received on Instagram that featured a Falcons fan requesting that he play Future early and often during the Seahawks/Falcons game:
Jay Envy followed that post up on Monday by revealing that he is actually creating an entire "Future Mix for Russell" for the game. He shared part of the playlist, which appears to feature more than a dozen Future songs:
And despite what Quinn told reporters about the team not specifically requesting Future songs from him, Jay Envy told Complex Sports that he's going to play Future like he always does once he takes over the sound system inside of the Georgia Dome on Saturday afternoon.
"This is Atlanta. I play Future at every home game," he told us on Tuesday afternoon. "That's like not playing [Kanye] in Chicago. It just doesn't happen. I'm not not going to play Future because of a certain team or player...I'm going to play it and, to be honest, no one has hit me up directly saying I can't play the records I normally play."
Jay Envy also said that his plan is to try "fitting in as many Future records as I can get away with," but he added "that's what I do anyway at every home game." And while he's hoping that playing Future will help the game feel even more like a home game for Atlanta, he doubts it will have much of an effect on Wilson.
"Let's be real here, I highly doubt me playing Future is going to affect the way Russell plays," he said. "He has probably seen and heard worse shit from players and other fans. He's got bigger problems like Vic Beasley and Keanu Neal."
Jay Envy is probably right. Playing a few Future songs—or hell, every song in the Future catalog—might not be enough to throw Wilson that far off his game. But then again, it seemed to work when the Panthers did it last January. So why not give it a try?