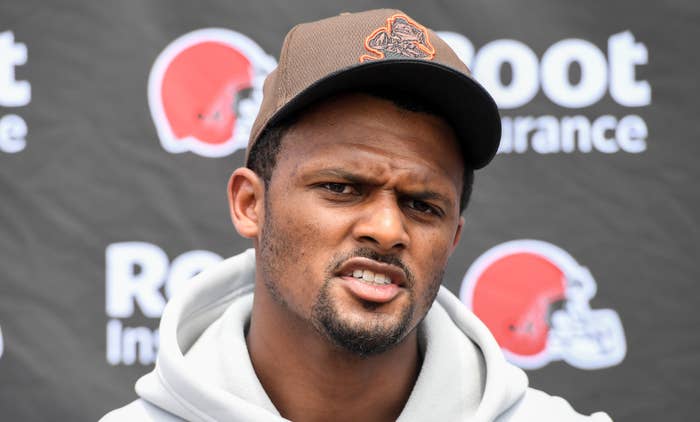 Despite recently settling all but four of the civil lawsuits filed against him, Cleveland Browns quarterback Deshaun Watson continues to make headlines after he was accused of sexual assault by nearly two dozen women.
NFL insider Josina Anderson took to Twitter on Thursday to shed light on a Watson accuser who allegedly "switched her account and tone" once the sexual misconduct allegations surfaced.
"I'm told there's a recording of an interview with the adult son of 1 of 12 women the NFL interviewed in the Deshaun Watson case—stating his mom initially was complimentary of Watson in their conversations after the massage, but later switched her account and tone after negative allegations surfaced about Watson," Anderson wrote.
"The son intimated his mother intended to reward his silence, per league source," she continued. "There's a feeling that the NFL was initially cagey about details they learned from the woman's son—after only mentioning they interviewed him in their report. The son's recording was later reviewed by Watson's side revealing the aforementioned details—presumably illuminating why this particular accuser was not included with the 5 women the NFL ultimately focused on at the hearing."
In a final tweet, Anderson shared, "I was also told the NFL presented no evidence of violence, force, threat or coercion in the allegations of the 5 women they focused on at the hearing before Sue Robinson."
Back in June, Watson reached an agreement to settle 20 of the 24 civil lawsuits that had been filed by massage therapists accusing him of of harassing, assaulting, or inappropriately touching them during appointments when he was playing for the Houston Texans.
"We are working through the paperwork related to those settlements. Once we have done so, those particular cases will be dismissed," Watson's attorney Tony Buzbee said at the time. "The terms and amounts of the settlements are confidential. We won't comment further on the settlements or those cases." 
ABC News reports Watson is still under investigation by the NFL, as commissioner Roger Goodell is "seeking an indefinite suspension of at least a year" for the quarterback.