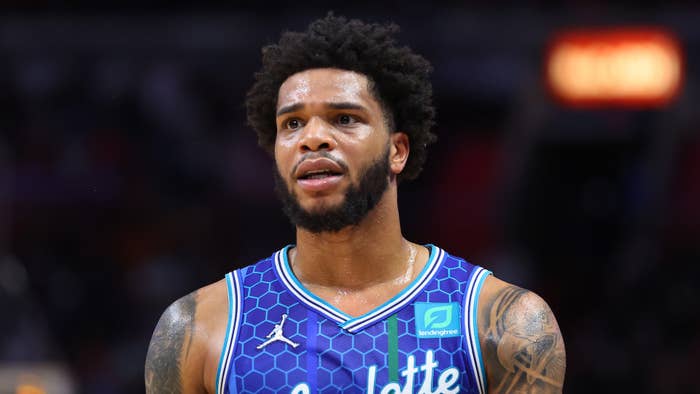 The NBA has suspended Charlotte Hornets forward Miles Bridges for 30 games as a result of his 2022 arrest on domestic violence and child abuse charges.
NBA insider Shams Charania broke the news on Friday, with the league announcing that 20 of the 30 games are "considered already served." Bridges will serve the remaining 10 games of the suspension at the beginning of the 2023-24 season.
"The NBA conducted its own investigation into this matter, reviewing all available materials and interviewing numerous third-party witnesses, as well as the parties involved," the league said in an official statement. "The NBA also consulted with a group of domestic violence experts who provide the league with guidance in such cases. The 30-game suspension is based on all facts and circumstance of this matter and considers the conduct and its result, as well as the outcome of the criminal matter, among other factors."
Bridges, a restricted free agent, missed the entire 2022-23 season after he was arrested for felony domestic violence last summer. In November, the 25-year-old avoided jail time by entering a no-contest plea to one felony count of injuring a child's parent. Bridges was sentenced to three years of probation, with a judge ordering Miles to complete 52 weeks of domestic violence counseling and parenting classes in addition 100 hours of community service.
It's unclear whether the Hornets or another NBA team will look to sign Bridges following today's announcement.
Earlier this week, Hornets GM Mitch Kupchak shed light on whether the organization has interest in bringing Miles back.
"Even when they complete their investigation, there are going to be steps that need to be taken whether it's from us or other teams," Kupchak said. "Because it looks like for certain that this is not going to go over 'til July 1st. There was some thought whether it was us or somebody else may sign him during the season. Well, that's not possible. This whole issue will roll over to July 1st."