Footage Surfaces of Marshawn Lynch's DUI Arrest in Las Vegas (UPDATE)
Former Seattle Seahawks running back Marshawn Lynch was arrested early Tuesday morning in Las Vegas on charges of driving under the influence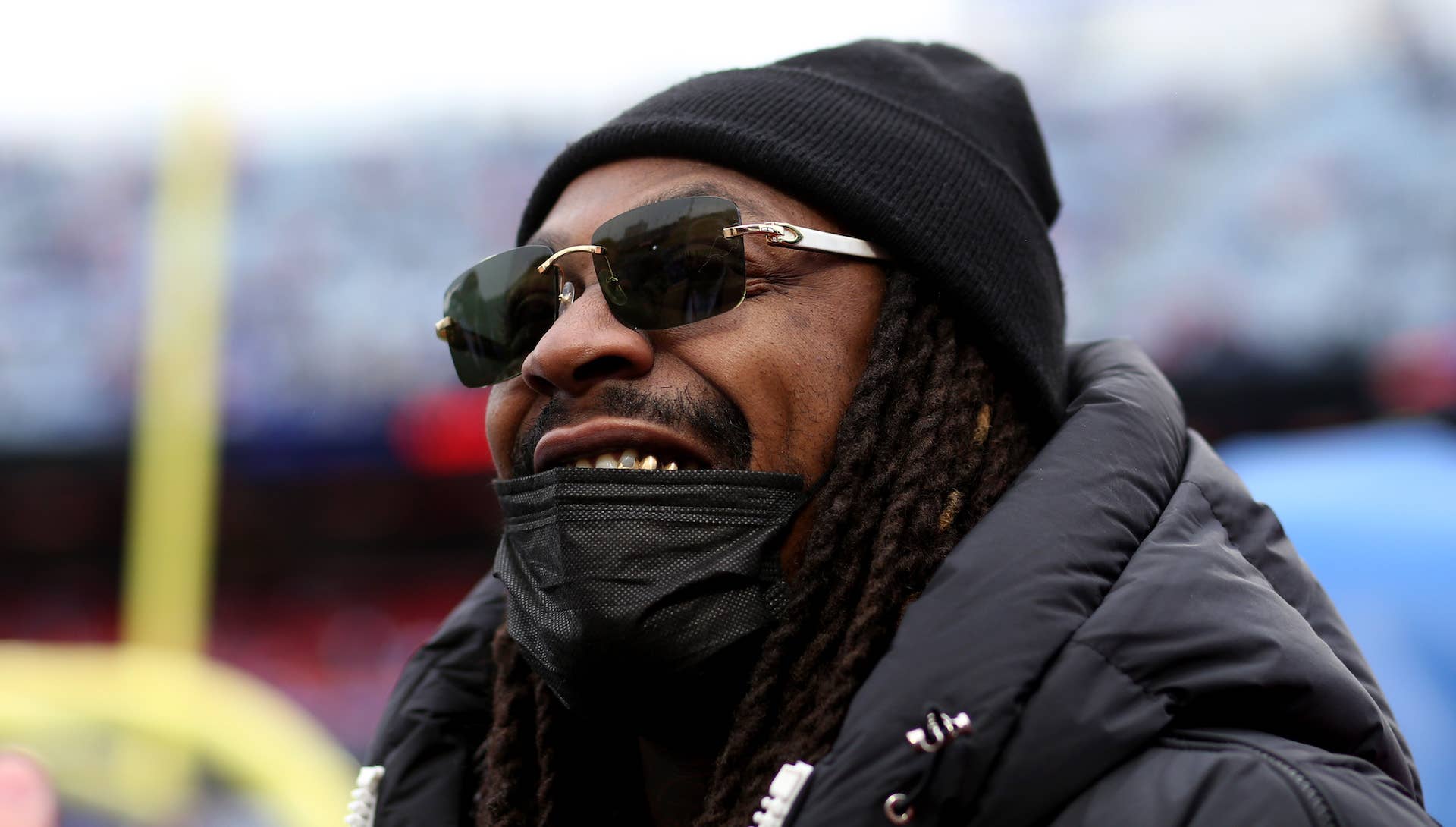 Getty
Photo by Joshua Bessex/Getty Images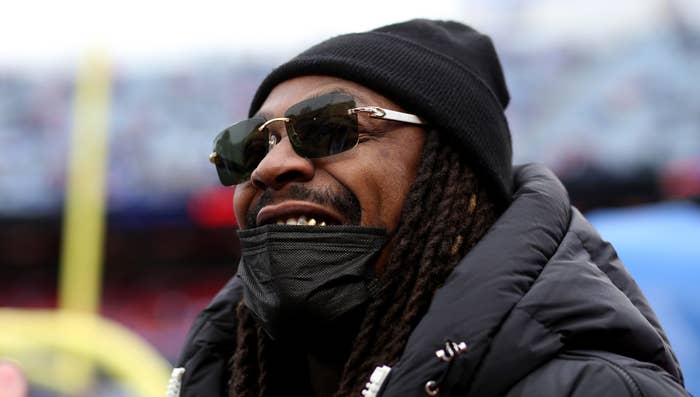 UPDATED 8/30, 10 p.m. ET: Six months prior to Marshawn Lynch's recent DUI arrest, the former Seattle Seahawks running back was involved in another problematic driving incident.
Per CBS affiliate KLAS, Lynch crashed his Lamborghini Aventador while driving in Las Vegas at 4 a.m. on Feb. 22, as he reportedly jumped a curb before colliding "with landscaping and a fence." Upon arriving at the scene, police found the retired NFL star's luxury car stuck on top of a boulder.
According to police documents another individual, who claimed to be Lynch's cousin, said they were driving. The individual was subsequently issued a citation, though the violations "were voided due to the fact it was proven [that person] was not the driver at the time of the collision."
Lynch's attorneys Richard Schonfeld and David Chesnoff told KLAS that the February incident was a "non-story."
"Marshawn addressed this matter many months ago and was found responsible for a parking violation," they said in a statement.
See footage of the February car accident aftermath below.
UPDATED 8/11, 5:10 p.m. ET: The Las Vegas Police Department has released bodycam footage of Marshawn Lynch's recent arrest.
The video, published by TMZ, shows police confronting the former NFL running back as he sits in the driver's seat of a Shelby GT500. One of the officers points out that the vehicle is missing a front tire, and asks, "Have you ever seen anybody drive a car like that? He drove it until the rim came off."
Lynch reportedly told authorities he was not drinking and doesn't do drugs. Police claimed he smelled of alcohol and fell asleep several times during questioning. 
"I'm not driving," Lynch is heard saying in the footage. "The car's not on. What is the problem? I'm just asking what it the problem?"
Lynch is repeatedly told to exit the vehicle and that if he fails to comply, he'll be charged with obstruction of an investigation.
"That is a criminal offense, and you will go to jail," one of the cops says. "Failure to obey a command by an officer, a lawful order, is obstructing. So, this is your last chance. Step out of the vehicle for us."
Lynch remains in the seat and continues to question officers before he's forcibly removed and put on the ground. The 36-year-old is then placed in handcuffs and arrested on suspicion of driving under the influence. According to law enforcement documents obtained by TMZ, Lynch was uncooperative when he arrived at the police station. Officers said they had to place Lynch in "a restraint chair" after securing a search warrant to draw a blood sample.
He's also reportedly facing charges of failure/refusing to surrender proof of security, unregistered vehicle, and failure to drive in a travel lane.
"Marshawn was not pulled over for a DUI. Rather the vehicle was safely parked and not in operation," his attorneys Richard A. Schonfeld and David Z. Chesnoff said in a statement. "We are confident that when all evidence is presented, this will not be a DUI under Nevada law. Marshawn appreciates and is thankful for everyone's concern and support."
See original story below.
Former Seattle Seahawks running back Marshawn Lynch has been arrested on charges of driving under the influence, TMZ reports.
The 36-year-old retired NFL star was stopped by police Tuesday morning near the Las Vegas Strip around 7:25 a.m. Sources told the outlet Lynch was driving "into curbs on the side of the road" prior to getting pulled over.
"Through the course of the investigation, officers determined that Lynch was impaired and conducted an arrest," Las Vegas police tweeted Tuesday afternoon.
Lynch, who did not submit to a breathalyzer, was arrested and booked into Las Vegas City Jail, with his bail was set at $3,381.
TMZ went on to report Lynch's vehicle appeared "un-drivable," with photos showing one tire totally missing, and at least one flat tire:
The news comes 10 years after Lynch was arrested by the California Highway Patrol for DUI in July 2012. In 2014, he pleaded guilty to a lesser charge of reckless driving.
A five-time Pro Bowler and two-time All-Pro selection, Lynch played 12 seasons in the NFL with three teams: Buffalo Bills (2007-10), Seattle Seahawks (2010-15, 2019), and Oakland Raiders (2017-18). Over his NFL career, Marshawn rushed for 10,413 yards and 85 touchdowns, while posting 2,214 receiving yards with nine receiving touchdowns.
Earlier this week, the Seahawks announced that Lynch will join Seattle's broadcast team as a special correspondent during the 2022-23 NFL season, where he will "produce creative content for a variety of projects."