Kevin Durant on Kyrie Irving: 'I'm Not About to Tell a Grown-Ass Man What He Can and Can't Do'
In a new interview with Bleacher Report, Kevin Durant opened up about a variety of topics, including his trade request and relationship with Kyrie Irving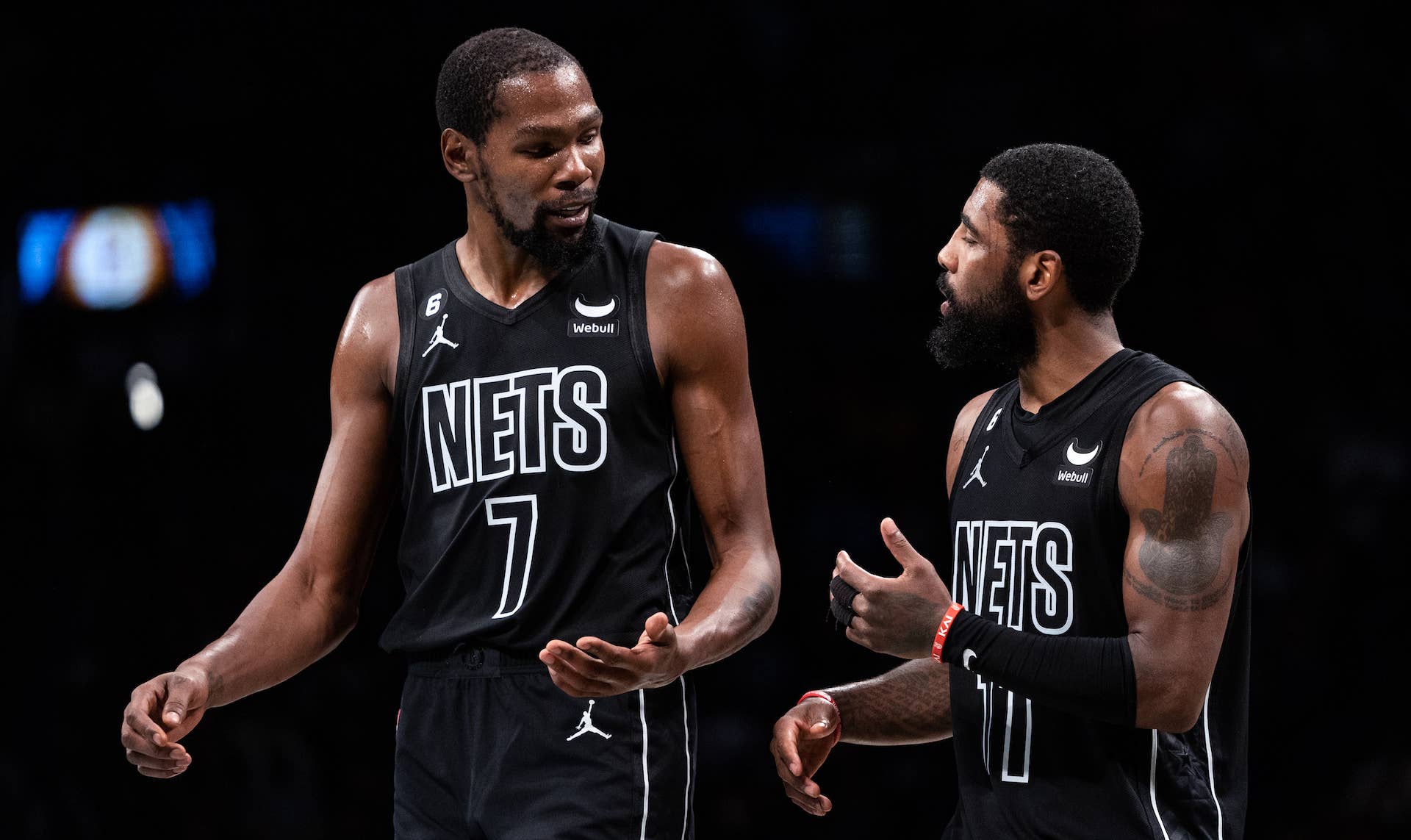 Getty
Photo by Dustin Satloff/Getty Images
In a new interview with Bleacher Report's Chris Haynes, Kevin Durant opened up about a variety of topics, including his trade request over the summer, as well as his relationship with teammate Kyrie Irving.
When asked about how his leadership compares to other superstars around the league, KD touched on how he was criticized for not pushing Kyrie to get vaccinated. 
"I'm not a leader? What the fuck does that mean?" Durant said. "A lot of people say I'm not a leader because I didn't tell Kyrie to get vaccinated. Come on. Or I didn't condemn Kyrie for leaving the team, going out and living his life. I'm not about to tell a grown-ass man what he can and can't do with his own life and dissect his views or how he thinks about shit."
"We can have a conversation and exchange perspectives on how I feel about the topic and you feel about the topic, but everybody else don't need to know or hear about our conversations because we're grown-ass men. I don't operate like that," he added.
Elsewhere in the interview, Durant discussed why he requested a trade over the summer, revealing that it had more to do with the Nets not holding him accountable, than it had to do with Brooklyn not surrounding him with enough talent.
"It wasn't difficult at all to request a trade because it was about ball," Durant told Haynes. "I went to them and was like, 'Yo, I don't like how we are preparing. I don't like shootarounds. I like practices. I need more. I want to work on more shit. Hold me accountable. Get on my ass in film if that's going to help you get on everybody else's head. I want to do more closeouts. I want to work on more shell drills at practice.'"
Durant continued, "This was the type of shit I was coming at them with. It wasn't like, 'Yo, y'all need to make sure everybody around me can make my life easier.' Hell nah, I want to make everybody else's life easier. Ask Steve Nash, you can go call him right now. I would say, 'Yo, I need more closeout drills. We need to practice more.' That's what I was on."
As for the Nets' chances of contending for a title, Durant maintained that the team shouldn't be expected to win simply because KD is on the floor.
"Look at our starting lineup. Edmond Sumner, Royce O'Neale, Joe Harris, [Nic] Claxton and me. It's not disrespect, but what are you expecting from that group?" Durant asked. "You expect us to win because I'm out there. So if you're watching from that lens, you're expecting us to play well because No. 7 is out there."
Read KD's full interview with Bleacher Report here.