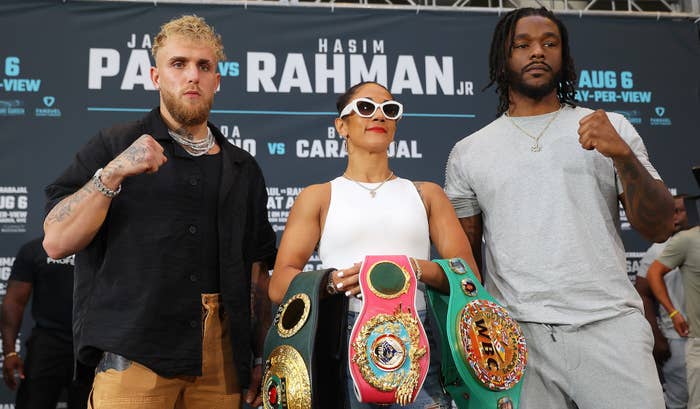 Jake Paul's Aug. 6 fight at Madison Square Garden has been canceled after his opponent, Hasim Rahman Jr., failed to meet the bout's contracted weight limit.
Showtime Sports and Most Valuable Promotions made the announcement on Saturday night, revealing that the pay-per-view main event has been called off due to issues regarding Rahman's weight.
"MVP and Jake Paul will not reward someone that has conducted themselves in such a deceiving and calculated manner," the statement said. "Therefore, MVP is left with no choice but to cancel the August 6th event. This forced outcome impacts Jake Paul, Amanda Serrano and every other fighter on this card who have trained tirelessly over the past few months for this event. The boxing community must hold Hasim Rahman Jr. liable for his lack of professionalism."
Shortly after the announcement, Paul shared a video on Twitter in which he explained the situation, before accusing Rahman Jr. of being scared of him at MSG.
"This is not a joke. I am devastated, I can not fucking believe this," Paul said. "This is just another case of a professional boxer, just like Tommy Fury, being scared to fight me. It's as clear as day that these guys have been so unprofessional to work with, looking for any excuse to suck more money out of this event, to coerce us into doing things and, from the jump, I knew in the bottom of my heart that this guy didn't want to get in the ring with me."
Watch Paul's full explanation below.