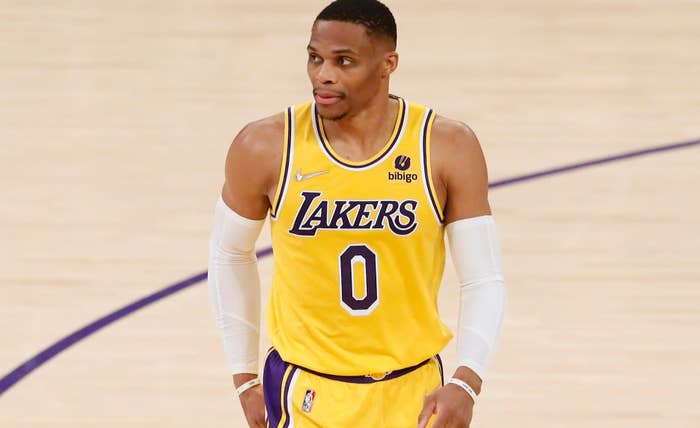 As the Los Angeles Lakers's Russell Westbrook experiment falters, it appears that there is one team that might be willing to acquire the point guard.
NBA insider Marc Stein reports that the Houston Rockets would consider a Westbrook for John Wall trade as long as the Lakers offered Houston enough draft compensation. 
"There is at least one team out there that would take him, league sources say, if the conditions are right," Stein wrote in article published to his Substack. "That team, surprisingly, is the Houston Rockets."
Stein adds, "I've since learned that the Rockets — while indeed holding no interest in having Westbrook play for them again — actually would be amenable to another Westbrook-for-Wall swap if the Lakers incentivized the trade with sufficient draft compensation."
Of course, it wouldn't be the first time the Rockets were involved in a Westbrook-Wall trade. Back in December 2020, Houston launched their current rebuild by trading Westbrook to the Wizards for Wall and a future first-round pick. Since arriving in Houston, Wall has only played in 41 games, all of which came last season. 
Given Westbrook's struggles in L.A. this season, you'd be hard pressed to find any Lakers fan who's unwilling to get rid of Russ by any means necessary. Even Westbrook himself is aware of his shooting slump. After a recently poor performance against the Kings, the point guard opened up about his shooting struggles.
"For me, I don't point fingers," Russ told reporters. "I always look at myself and figure out ways to become better, but one thing I never do is panic. I never lack confidence in myself and what I'm capable of doing, but I am and will put more pressure on myself to be better, especially on the offensive end and making some shots as we move forward. That's for me something I can move forward with and something I can look myself in the mirror and be able to make adjustments to be needed."