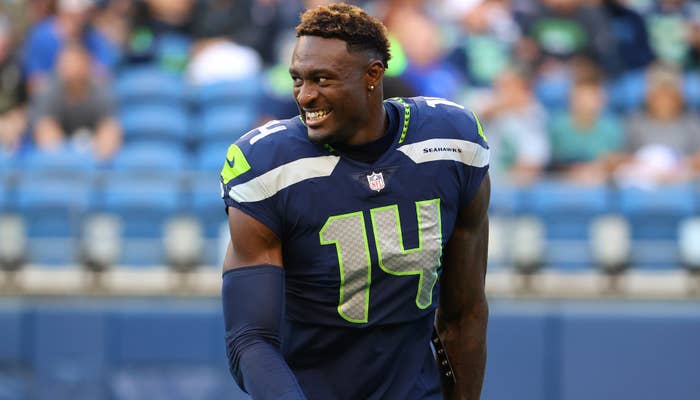 Entering his fifth season in the NFL, Seattle Seahawks wide reciever DK Metcalf has already established himself as one of the best receivers in the league and for good reason. In just 66 career games, Metcalf has caught 35 touchdowns to go along with 4,218 yards receiving. And yet, DK's 6-foot-4 frame is fueled by a mind-boggling diet consisting of only one meal per day.
Metcalf spoke about his diet in a recent appearance on Kevin Garnett's Showtime Basketball series KG Certified. When asked what role nutrition plays in his routine, DK admitted he's "probably the worst person to ask that," before shedding light on his unusual diet.
"I eat one meal a day, drink one coffee, and eat like three, four bags of candy," Metcalf shared. As for which type of candy he prefers, DK says he's a "gummy type of guy," with Lifesavers and Skittles among his favorites.
As DK explains in the above clip, the All-Pro wide receiver starts his day by working out, before heading to Starbucks to grab a cup of coffee, which holds him over until 4 p.m. After eating a few bags of candy around 4:30 p.m., Metcalf finally consumes his first and only meal of the day at 8 or 9 in the evening.
Despite his unusual diet, Metcalf, who turned 25 years old last December, finished each of the past four seasons with at least five touchdowns and 900 yards receiving. After catching 10 and 12 touchdowns in 2020 and 2021, respectively, Metcalf finished last season with six TDs and 1,048 yards receiving.