Dana White Reveals He Tried to Get Tom Brady and Rob Gronkowski to Join the Las Vegas Raiders in 2020
While speaking with Rob Gronkowski on "UFC 278 with the Gronks" Saturday, Dana White shared how he tried to get the tight end and Tom Brady to join the Raiders
Getty
Photo by Amy Kaplan/Icon Sportswire via Getty Images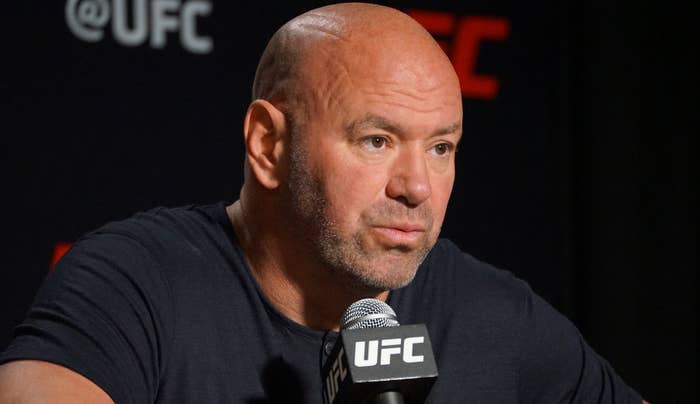 In an appearance on UFC 278 with the Gronks on Saturday night, Dana White revealed how he almost got Tom Brady and Rob Gronkowski to join the Las Vegas Raiders ahead of the 2020 NFL season.
"Do I really tell this story right now, Rob? Do you want me to tell this story?" White asked. 
Gronkowski gave him the go-ahead, adding, "You never know, I could have been in Vegas with you the last three years man, what the heck?" 
"You would have been!" White said, before explaining how the deal fell through. 
"It was almost a done deal, and at the last minute, Gruden blew the deal up and said that he didn't want him, and all hell broke loose," White said. 'It was crazy. Brady was already looking at houses. It wasn't being said yet that Gronk was coming. So Las Vegas would have had Brady and Gronk the year that the Bucs won the Super Bowl, except Gruden blew the deal up." 
"That is exactly what happened," replied Gronk while confirming White's story.
Alas, Gronk and Brady ended up in Tampa Bay, where they helped lead the Buccaneers to a Super Bowl title in 2020. 
The news arrives two months after Gronk retired from the NFL for the second time.Widely considered the greatest tight end in NFL history, Gronk took to social media in June to announce his retirement. The 33-year-old, who retired after the 2018 season before joining Brady with the Bucs in 2020, walks away from football after 11 seasons and four Super Bowl titles.