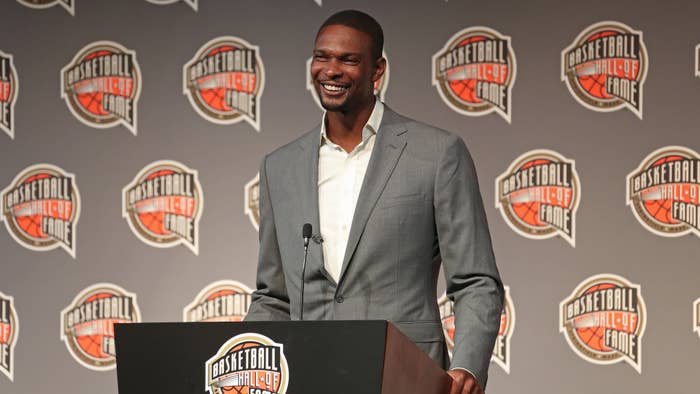 The Naismith Memorial Basketball Hall of Fame celebrated the Class of 2021 on Saturday as 16 legends were honored with induction into the Hall.
The Class of 2021 was headlined by two-time NBA champion and 11-time NBA All-Star Chris Bosh, NBA Finals MVP and 10-time NBA All-Star Paul Pierce, four-time NBA Defensive Player of the Year and NBA Champion Ben Wallace, and five-time NBA All-Star Chris Webber.
Also inducted were Bill Russell, the first Black NBA head coach, two-time NCAA national champion Villanova coach Jay Wright, seven-time WNBA All-Star and two-time Olympic gold medalist Yolanda Griffith, and seven-time WNBA All-Star and three-time WNBA Most Valuable Player Lauren Jackson.
Bosh, who was forced to retire at just 31 years old because of blood clots, delivered a heartfelt speech in which he spoke about the highs and lows of his career.
"After finally making it to the mountaintop with so much more to do, in my mind, so much more work to do, it all stopped," he said. "I eventually came to realize that we all have it in our power to make the most out of every day despite what happens, to turn setbacks into strengths."
Meanwhile, Webber discussed the impact that one of his childhood idols, Pistons legend Isiah Thomas, had in helping him make it to the NBA and beyond.
"I'm 16, Zeke call my house to see if he can come talk to us," C-Webb said. "After talking to my parents, he told me he knew what I was going through, and not to worry. You told me if I needed anything you would be there, financially, mentally. You gave me confidence, you validated my game. You protected me from vultures and that's why I never needed to take money from anyone. You took your time and planted a seed. Thank you Isiah, I love you."
Perhaps the night's most unique speech came from Big Ben, the only undrafted player to be inducted into the Hall.
"Legacies are built to last," Wallace said. "But what type of legacy are you building? What potential legacy? I'll tell you my legacy: I wasn't welcome. I was too small. I couldn't play the game the way they wanted me to play the game. Sound like an uneven game to me. Put me on a level playing field, and I'll show you."
Like Wallace, Celtics legend Paul Pierce made a point to send shots at those who underestimated him early on.
"Thank you for passing on me. It added fuel to my fire," Pierce said. "To this day, I don't understand how I slipped to No. 10. But you know, everything happened for a reason. Going to the Celtics, I'm grateful."