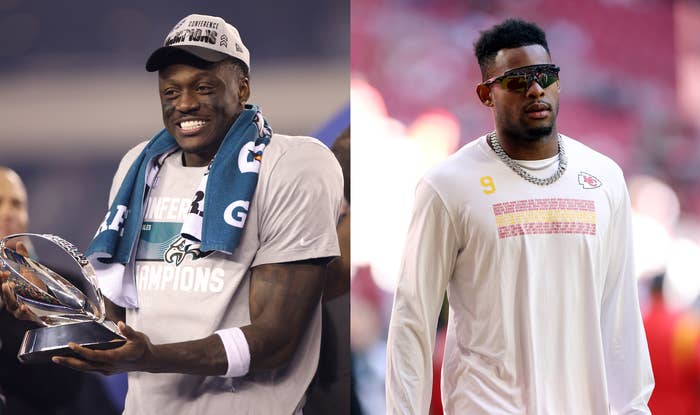 Fresh off winning his first Super Bowl, Kansas City Chiefs receiver JuJu Smith-Schuster celebrated Valentine's Day on Tuesday by roasting the Philadelphia Eagles.
Smith-Schuster poked fun at Eagles cornerback James Bradberry, who fell victim to a controversial holding call during Kansas City's game-winning drive on Sunday, in a meme on Instagram.
"Happy Valentine's Day everybody," JuJu captioned a picture of Bradberry, who appeared in Schuster's post alongside a meme that read "I'll hold you when it matters most."
Eagles wideout A.J. Brown was quick to come to his teammate's defense, as he hopped on Twitter to blast JuJu for riding Chiefs quarterback Patrick Mahomes' coattails. 
"First off congratulations. Y'all deserve it," Brown wrote, before taking aim at Smith-Schuster.
"This is lame. You was on the way out the league before mahomes resurrected your career on your 1 year deal Tik-Tok boy. He admitted that he grabbed you but don't act like your like that or ever was. But congratulations again!"
Brown wasn't the only Eagles player to respond to JuJu's tweet.
Eagles cornerback Darius Slay, who was covering the other side of the field when the aforementioned holding call occurred, took to Twitter and called Smith-Schuster's post "weak af."
"It's all good tho!!" he added. "They won."
Meanwhile, former Kansas City wide receiver Tyreek Hill, who signed with the Miami Dolphins last winter, expressed his disdain for his predecessor, writing "front-runner, bro."