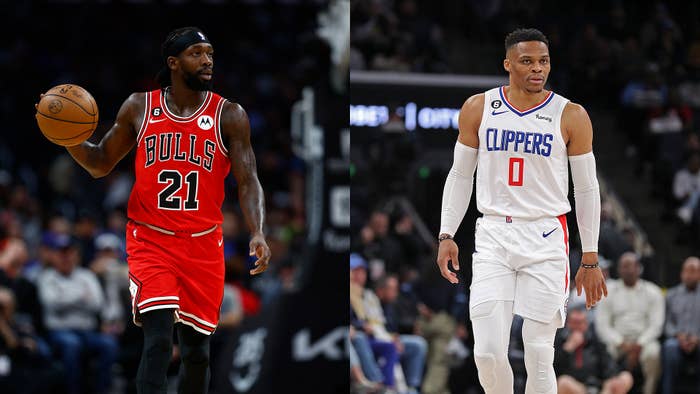 In a recent live stream for the Pat Bev Podcast with Rone, Patrick Beverley said Russell Westbrook told him he wants his credit if the Los Angeles Lakers win the season.
As Beverley explained, he bumped into his former Lakers teammate at the gym recently when they spoke about their contributions to the team this season. "Russell goes, 'Hey Pat if the Lakers win, I want my ring,'" said Beverley around the 10:30 point of the stream, as seen below. "I ain't going to lie, Russ. We're going to be suited and booted, and I'll be right there waiting for my ring. … I'm gonna get that ring. I was on the team longer than anything… I guess obviously there's a ring ceremony, so I guess whenever I play the Lakers they'll give me mine. I might shed a tear, give a speech."
Beverley and Westbrook were teammates during their time at the Lakers, but they were traded to other teams earlier this season on Feb. 9. Bev, who joined the Lakers in 2022, was traded to the Orlando Magic but agreed to a contract buyout, at which point he signed with the Chicago Bulls. Westbrook, meanwhile, was traded to the Utah Jazz and also did a contract buyout so he could sign with the Los Angeles Clippers. 
Both of the players were part of the team at the start of the season, so it's not completely out of the realm of possibility for either of them.
Check out an archive of the Pat Bev podcast livestream below.