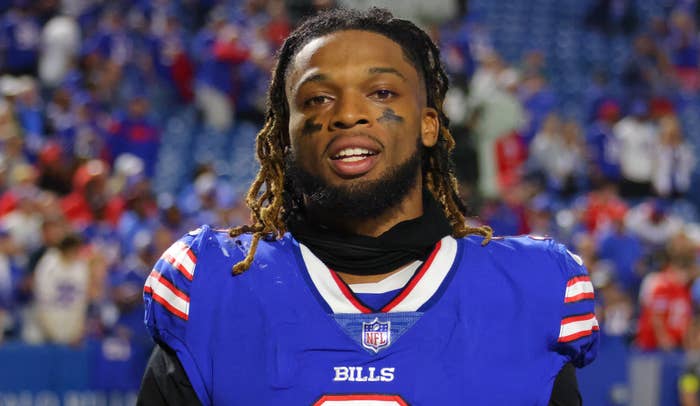 UPDATED 04/18/23, 12:10 p.m. ET: Following his cardiac arrest during a game back in January, Bills safety Damar Hamlin has been fully cleared to return to playing football, per ESPN.
"He is fully cleared. He's here ... and he's in a great headspace to make his return," said Buffalo general manager Bradon Beane on Tuesday. Hamlin saw a specialist last week and is already taking part in voluntary workouts with the rest of the team. After the cardiac arrest during the game against the Cincinnati Bengals earlier this year, Hamlin visited three different specialists who have since agreed he's good to return to the field.
Hamlin spent some time in Washington, D.C. last month as part of an effort to promote legislation providing access to defibrillators and training on school campuses. 
UPDATED 01/11 12:50 p.m. ET: The Buffalo Bills have confirmed that Damar Hamlin has been discharged from the Buffalo hospital he was being monitored at.
"Hamlin was admitted on Monday and went through a comprehensive medical evaluation as well as a series of cardiac, neurological and vascular testing on Tuesday," the team wrote in a statement. Jamie Nadler, MD, critical care physician and Chief Quality Officer at Kaleida Health, and the care team lead for Hamlin added, "We have completed a series of tests and evaluations, and in consultation with the team physicians, we are confident that Damar can be safely discharged to continue his rehabilitation at home and with the Bills."
Hamlin returned to Buffalo earlier this week after he was being treated in critical condition at the University of Cincinnati Medical Center.
See original story below.
Damar Hamlin has been discharged from the hospital a week after the Buffalo Bills safety collapsed on the field after suffering a cardiac arrest. 
ESPN's Adam Schefter confirmed that Hamlin left his Cincinnati hospital and returned to Buffalo just a few days after his breathing tube was removed and he began talking to his teammates again.
While Hamlin is currently at a hospital in Buffalo, he is expected to soon "make a transition back to home" according to his doctors.
"Headed home to Buffalo today with a lot of love on my heart," wrote Hamlin in a tweet on Monday. "Watching the world come together around me on Sunday was truly an amazing feeling. The same love you all have shown me is the same love that I plan to put back into the world n more. Bigger than football!"
Dr. William Knight IV said in a press conference on Monday, per CNN, that he traveled with Hamlin to the airport, and spoke to his team of doctors in Buffalo. Knight confirmed that Hamlin is "doing well and this is the beginning of the next stage of his recovery."
Dr. Timothy Pritts, who is the chief of surgery at the University of Cincinnati hospital, said it is "still fairly premature" to determine what caused his cardiac arrest during last week's game. "He's making great progress, his brain and his neurological function is really normal so right now it's just a young man recovering from a very serious illness," said Pritts. "From our standpoint, the best way to do that is to arrange the next steps in his recovery at a local hospital. ... We think that he will recover well from this."