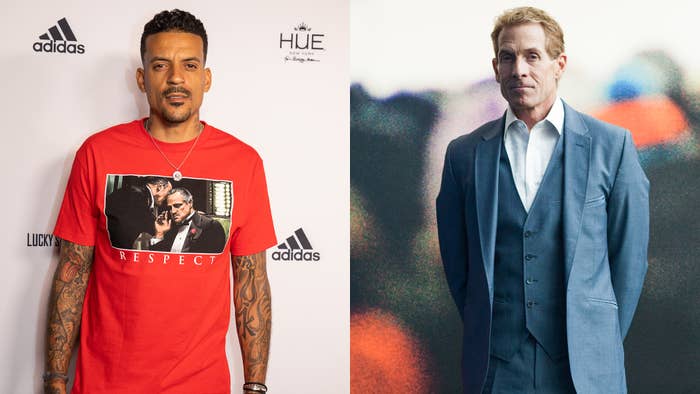 Matt Barnes has said he's stopped two people from trying to beat up Skip Bayless over his tweet on the night Damar Hamlin collapsed during Monday Night Football.
"First of all, Skip is a professional in this realm, [and] was highly respected," Barnes said in a video originally posted to his Instagram. "When people say, 'read the whole tweet,' he said the game was 'irrelevant.' He knew he had to put that at the end of the bullshit he was saying hoping we didn't see through the bullshit, because how he truly felt was his original first sentence."
Barnes suggested that Bayless did seem more concerned about the postponement of the game, and that his comment was "blatant disrespect" to Hamlin. "I just feel as of late he's been very very very disrespectful and out of pocket, and that's normal, but he's been that way to Shannon [Sharpe]," he continued. "I think Skip's day is coming, and it may not be from a firing standpoint because you know white men in this profession can kinda get away with and do what they want."
Barnes went on to claim that he's had to stop two fights in the past over comments Bayless made, but did not specify what the threats of violence were over. "I know personally that I've had to diffuse two situations," he said. "One with a coach, and one with an NBA player. They wanted to fuck Skip up. … One was this year, one was last year. … Luckily cooler heads prevailed, but it's just gone too far in my opinion. Shannon's had a lot of love or does have a lot of love for dude, but you can even see Shannon's fed up. And someone's gonna end up hurting Skip."
In his tweet shared on Monday, Bayless wrote, "No doubt the NFL is considering postponing the rest of this game – but how? This late in the season, a game of this magnitude is crucial to the regular-season outcome … which suddenly seems so irrelevant." The tweet was widely criticized, despite Bayless stressing in a follow-up that "nothing is more important than that young man's health."
When Tuesday's episode of FS1's Undisputed aired, his co-host, Sannon Sharpe, was notably absent. Sharpe returned Wednesday, when things got heated between the two. 
"Skip tweeted something and although I disagreed with the tweet, and hopefully Skip will take it down, but I didn't want," Sharpe said before Bayless interrupted. 
"Timeout, timeout. I'm not going to take it down because I stand by what I tweeted," Bayless said.
"I cannot even get through a monologue without you interrupting me," Sharpe shot back. "I was just going to say, Skip, I didn't want to yesterday, to get into a situation where Damar Hamlin was the issue. We should've been talking about him and not get into your tweet. That's what I was going to do. But you can't even let me finish my opening monologue without you interrupting."
Check out their blowup above.