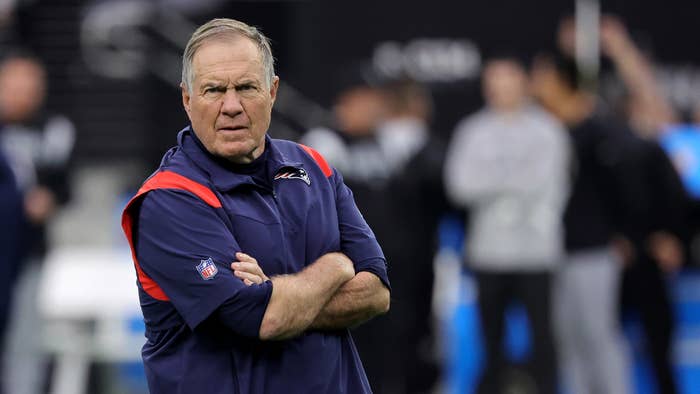 After Taylor Swift was seen cheering on Travis Kelce at Sunday's Kansas City Chiefs game, New England Patriots head coach Bill Belichick weighed in on their romance.
"Well, I would say that Travis Kelce has had a lot of big catches in his career," he said on The Greg Hill Show. "This would be the be biggest."
Earlier this month, sources claimed that Swift and Kelce had been "quietly hanging out" recently. In the days that followed, Kelce's brother Jason appeared to confirm the gossip with a sly answer on the DeCamara & Ritchie show on Audacy's SportsRadio 94 WIP.
For the most part, however, Kelce and Swift stayed quiet on the matter. That was, until Kelce showed up on The Pat McAfee Show to address all the attention he's getting because of it. "It's hilarious how much traction this has actually gotten, right now it's like a game of telephone," he shared. "I threw it out there, I threw the ball in her court. I told her, you know, I've seen you rock the stage in Arrowhead [Stadium], you might have to come see me rock the stage in Arrowhead and see which one's a little more lit. So, we'll see what happens in the near future."
On Sunday, things officially went nuclear when Swift pulled up to Arrowhead and spent the game cheering Kelce on alongside his mother.
Video also emerged of them leaving the stadium together, first by foot, and then by car. so yeah, this definitely looks like it's a thing.