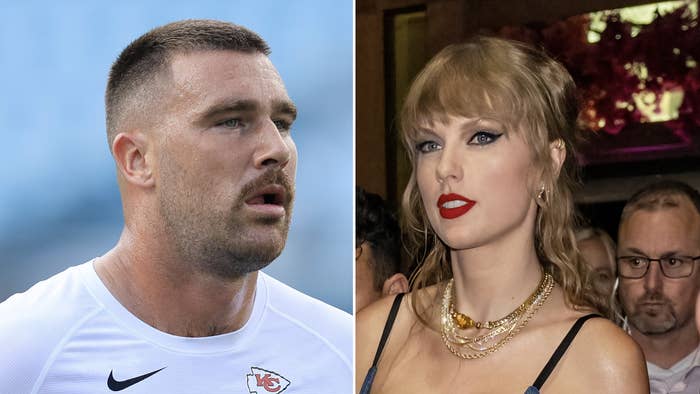 UPDATED, 9/20/23 11:55 p.m. ET: Despite it initially seeming as though Jason Kelce confirmed his brother Travis Kelce is dating Taylor Swift, he might have been only joking.
In a clip from his interview on DeCamara & Ritchie show, his audio seemingly gets cut off briefly but it sounds as though he's joking about the rumors being "100 percent true." As People reported, he followed up his comments with, "No, I'm joking, I don't know what's happening." While the audio is unclear, it's yet another obfuscation regarding the rumored romance.
See original story below.
Following rumors that Travis Kelce and Taylor Swift are dating, his brother thinks it's "100 percent true" that the two are romantically linked.
"It's hard to answer because I don't really know a lot about what's happening with Travis' love life," Jason Kelce said in a recent appearance on the DeCamara & Ritchie show on Audacy's SportsRadio 94 WIP. "I try to keep his business kind of his business, and stay out of that world. But having said that, man, I think he's doing great and I think it's all 100 percent true."
Earlier this month, a source told The Messenger that the two-time Super Bowl champion and the 12-time Grammy Award winner had been "quietly hanging out." The news prompted reactions from Swifties and Kansas City Chiefs fans, although a source also told Entertainment Tonight that they're not an item.
On Sunday, Sept. 17, the NFL Network's Rich Eisen used the rumors to fit in as many Taylor Swift references as possible during the pregame coverage of the Chiefs and Jacksonville Jaguars game. "Well, even though that bone bruise in the injury one would think is 'Delicate,'" Eisen said. "He's been able to 'Shake It Off.'" He later made references to "All Too Well" and "Blank Space," among other tracks.
"Look what you made me do, @killatrav," Eisen wrote in a caption for a video of him making the references. Kelce appeared amused and commented, "Well played Rich…. Well played 👏🏻😂."
Swift, meanwhile, further fueled rumors after she stepped out in New York City sporting a teardrop-shaped pendant necklace set with an opal, which also happens to be Kelce's birthstone. While the singer-songwriter has always worn opal stones, some fans theorized that it's a quiet confirmation of her relationship with Kelce.