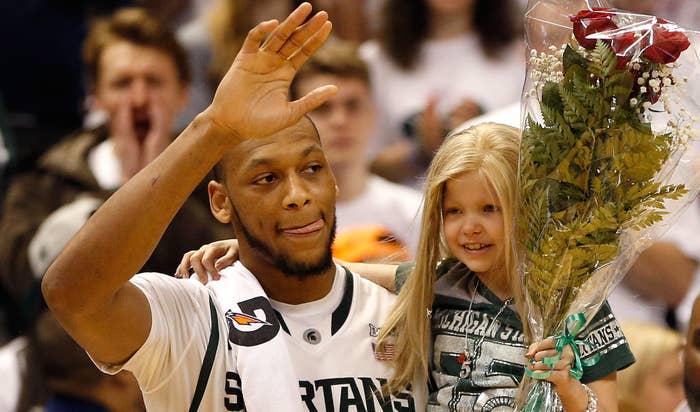 Former Michigan State University basketball star Adreian Payne was killed at age 31 in Orlando.
Florida's WESH 2 wrote that Payne was killed in a shooting around 1:37 a.m. Suspect Lawrence Dority, 29, remained at the scene and was arrested on a first degree murder charge.
Following his time with the school, he was a first round pick for the Atlanta Hawks in the 2014 NBA Draft. Other NBA teams he played for include the Minnesota Timberwolves and the Orlando Magic.
"Hate the news i received this morning….Rest Easy to my brother/Teammate @Adreian_Payne," wrote fellow basketball player Jared Sullinger Jr. on Twitter, with the news confirmed by Michigan State sports reporter Chris Solari.
Hate the news i received this morning…. Rest Easy to my brother/Teammate

@Adreian_Payne
Outside of his basketball career, Payne was well known for his friendship with 8-year-old cancer patient Lacey Holsworth. He became friends with the young girl while he was at MSU, and referred to her as his little sister. She passed away in 2014.
Payne was let go by the Orlando Magic after his name showed up in an alleged sexual assault from his time at Michigan State University. Following an investigation, no charges were filed against him. According to an extensive report from ESPN, a student alleged that Payne and his teammate Keith Appling cornered her in their dorm room and raped her. A police report revealed that Payne told police he understood "how she would feel that she was not free to leave."
In his later career, Payne went overseas and signed with Greek team Panathinaikos. He also played with French team ASVEL Basket, Turkish team OGM Ormanspor, and Lithuanian team BC Juventus.