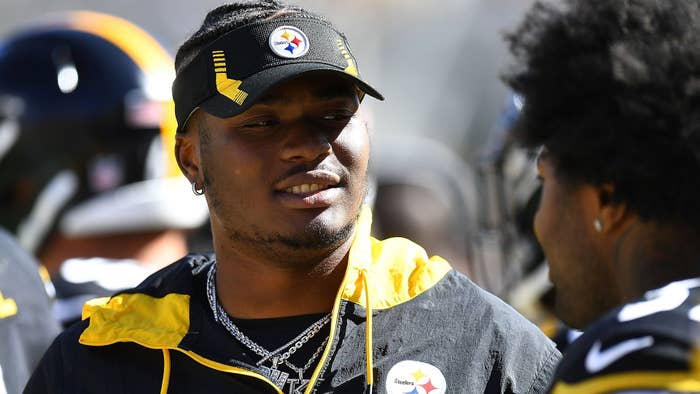 Dwayne Haskins, a 24-year-old quarterback for the Pittsburgh Steelers, died on Saturday morning after being struck by a vehicle. His agent Cedric Saunders shared the news with ESPN's Adam Schefter. 
The NFL player was training in South Florida with other quarterbacks, running backs and wide receivers on the team, including Mitch Trubisky, Najee Harris, and other players, per Albert Breer.
"I am devastated and at a loss for words with the unfortunate passing of Dwayne Haskins," Steelers coach Mike Tomlin said in a statement, per ESPN. "He quickly became part of our Steelers family upon his arrival in Pittsburgh and was one of our hardest workers, both on the field and in our community. Dwayne was a great teammate, but even more so a tremendous friend to so many. I am truly heartbroken. Our thoughts and prayers are with his wife, Kalabrya, and his entire family during this difficult time."
The Washington Commanders picked up Haskins during the 2019 NFL draft as the 15th overall pick, and he spent two seasons with the team before signing with Pittsburgh last season. He started in seven games as a rookie. 
Before that, Haskins was QB at Ohio State—something he manifested for himself as a kid, per a viral video now making the rounds on Twitter. He was the second runner-up in the Heisman Trophy during his time playing college ball. 
"We are devastated to hear the news of the tragic passing of Dwayne Haskins Jr.," Washington co-owners Dan and Tanya Snyder shared in a statement. "He was a young man with a tremendous amount of potential who had an infectious personality. To say we are heartbroken is an understatement."
Schefter's first tweet, which for many was the first time they found out about Haskins' death, has since been criticized by many in the league and beyond. Schefter called Haskins a "standout at Ohio State before struggling to catch on with Washington and Pittsburgh in the NFL," before deleting a tweeting later that Haskins was a "standout at Ohio State before becoming Washington's first-round pick and playing in Pittsburgh."
"Athletes for the record.. the shit @AdamSchefter  wrote that's how a lot of people view us," Dez Bryant wrote. "we ain't shit but entertainment!.. if you let 1 treat you with disrespect the rest will follow…"
Before Schefter deleted his tweet, Lamar Jackson called the reporter "lame asf all around grown ass man and can look in the mirror and smile at yourself." Others like Joe Haden and Cardale Jones also shared their thoughts. 
"How about 'Dwayne Haskins, son, husband, buckeye brother, friend, beloved teammate has passed away,'" Jones wrote. "TF his career ups and downs have to do with him unfortunately losing his life STFU! Let his family & friends grieve instead of throwing shade. Praying for the Haskins family!!"