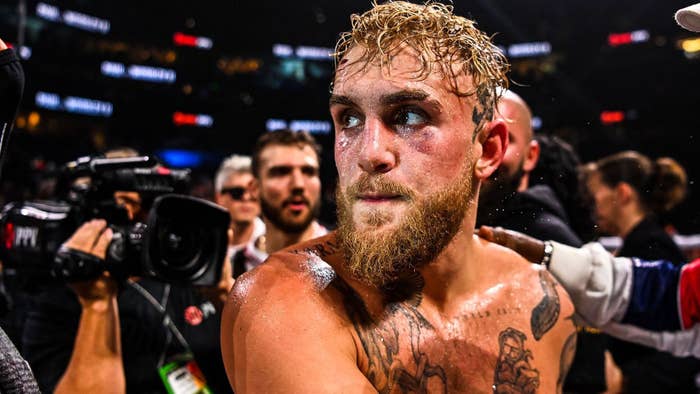 UPDATED 01/01, 8:10 p.m. ET: Dana White has responded to Jake Paul's statements surrounding long-term changes he wishes to see for UFC fighters. In a video posted to Instagram, White pushed back on Paul's written proposal by saying that "nobody on earth thinks" he really wrote that statement.
White opened up his response by saying that Paul never attempted to prove White ever actually used cocaine, despite claiming that he did so on multiple occasions. 
"I believe that you're a cheater, and I believe that you use steroids, so I want to randomly steroid-test you for the next two years," White said. "And that thing you came out with today? Nobody on earth thinks that you really wrote that, you're too stupid." White added that Paul's current manager used to be his accountant and that he's "a scumbag." 
"If you two think that you can do it better than we do, you know, we're doing this whole thing wrong, you can treat the fighters better than we do, knock yourself out. Go start your own business," White said.
Check out the full response below.
See original story below.
Jake Paul is speaking out about how much UFC fighters get paid and demanding they receive long-term healthcare. 
The YouTuber-turned-boxer took to Twitter on Saturday and celebrated the new year by giving UFC President Dana White—who he has previously called a "greedy asshole"—a set of changes he wanted to see implemented in the sport. If White abides by the changes, Paul writes that he will then retire from boxing, enter the U.S. Anti-Doping Agency, and take on MMA fighter Jorge Masvidal. 
Among the changes, Paul is requesting White increase minimum "fighter pay per fight to $50k (it's $12k now)," guarantee "UFC fighters 50% of UFC annual revenues," and provide "long-term healthcare to all fighters," citing "UFC alums who have publicly said they are suffering from brain damage." Paul gave White five days to accept the conditions, with them needing to be implemented by March 31. 
"To all UFC fighters – time to take a stand and create value for yourselves and your peers," he wrote. "You deserve higher pay, you deserve long term health and above all you deserve freedom. Support each other. I am not your enemy. I am your advocate…who selfishly wants to KO a few of you to make some big bank."
Paul's latest comments on Twitter come after he previously accused White of unfairly compensating fighters and having used cocaine, and after White asked him to be steroid tested in a recent chat on "The FIGHT with Teddy Atlas." 
"I got a challenge for Jake Paul," White said during the show. "This guy keeps saying that I'm a coke head. He can randomly cocaine test me for the next 10 years if I can randomly steroid test him for the next two."
White also added that he would not be letting Paul box a UFC fighter if they are still under contract, arguing that Paul wants to "fight fucking everybody that's not in his weight class, guys that are older and all this bullshit."