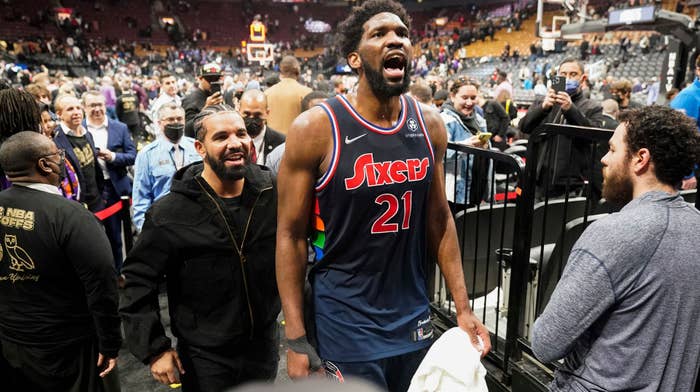 Drake may not be everyone's favorite sports fan, but he sure knows how to celebrate a win—no matter who ends up the victor. 
After the Raptors fell to the 76ers 104-101 in Game 3 of their First Round series Wednesday night, Drizzy—who just so happens to be the team's Global Ambassador as well as their most famous fan—was photographed smiling alongside 76ers center Joel Embiid. The photo was taken moments after Embiid hit the game-winning shot to send the Raptors into a 3-0 hole, which prompted Embiid to approach Drake and promise a series sweep. 
"Get your ass out, I'm coming for that sweep too," Embiid can be heard telling Drake in the clip above. 
But what really gave people ammunition was a specific image captured after their interaction, in which Drizzy looks downright joyous by Embiid's side as he celebrates the win, despite his team just coming up short in a critical playoff game. 
Drake has long had a reputation as a bandwagon jumper, and this latest image did little to quell that very particular line of thinking. As one might expect, people were quick to pounce on the Toronto homer. Check out some notable reactions to Drake being Drake below.