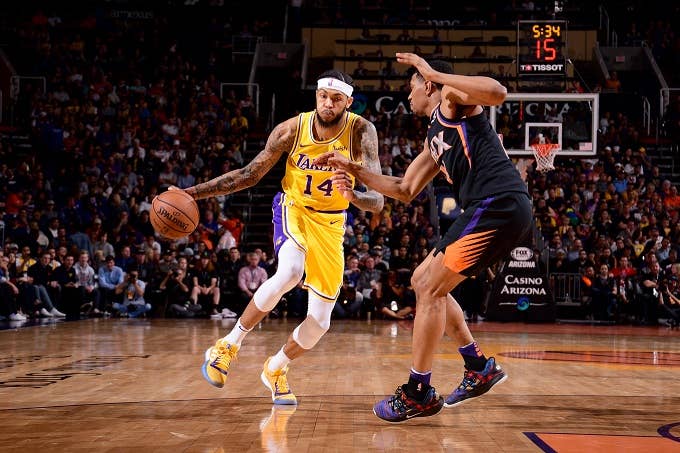 Brandon Ingram is expected to return next season after undergoing surgery for a blood clot in his arm.
The Lakers report that their 2016 draft pick had thoracic outlet decompression surgery on Saturday at the Ronald Reagan UCLA Medical Center. Ingram was declared out for the season after team doctors diagnosed him with deep venous thrombosis, a type of blood clot in the veins away from the skin's surface that can become dangerous if it breaks free and travels to the lungs. The clot had been causing shoulder pain for Ingram, who was averaging 18.3 points per game before he was forced to sit. 
The Lakers expect Ingram to make a "full recovery" and be ready to play come the fall. 
This news is a huge positive for fans who saw shades of Chris Bosh in the young player's diagnosis. Bosh had a similar problem with DVT in his legs, and the fear of further complications from blood clots sidelined his career. Bosh failed physicals due to the condition and eventually gave up on returning to the league after the Miami Heat retired his number earlier this year. 
Ingram's expected return is one of scant few bright spots for the Lakers. The team has struggled mightily to return to its winning ways, and even the signing of LeBron James wasn't enough to carry the team into the playoffs. The pressure to the win and the failure to deliver has led to some reported tension in the Lakers locker room, with rumors saying that James wants current coach Luke Walton to hit the bricks after this season ends.  Whoever ends up coaching the Lakers will no doubt be happy to see Ingram back.